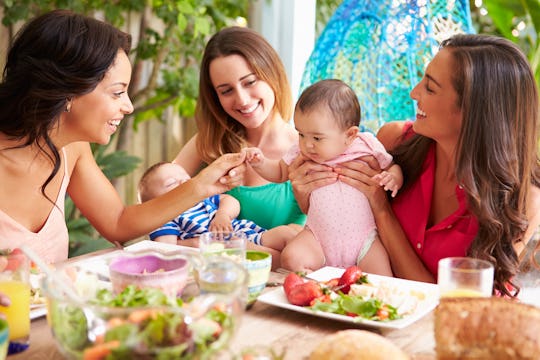 7 Ways to Make New Mom Friends That Won't Push You Too Far Out Of You Comfort Zone
Good friends make everything more pleasant (or at least bearable), and motherhood is no different. Once you have a baby, it's natural to seek out the company of other mothers who share your experiences. But achieving you #momsquadgoals isn't as easy as it seems, and you may in need of ways to make mom friends that don't make you fee like you're back in kindergarten.
Surprisingly, a lot of the advice offered for making mom friends echoes dating advice. Put yourself out there. Make the first move with a funny opener. Try the Internet. The whole process can leave you a little vulnerable and frazzled. After all, it can be difficult to rally yourself to take on new activities and get out of your comfort zone on top of all the parenting duties that take up your day.
Fortunately, parenting presents itself with many opportunities for you to meet your new mom BFF. By getting regularly involved in weekly activities, chatting up your fellow moms at a playground, and even connecting with other moms online, you're certain to make mom buddies eventually. And in the absolute best case scenario, your kids will become best buddies, too.