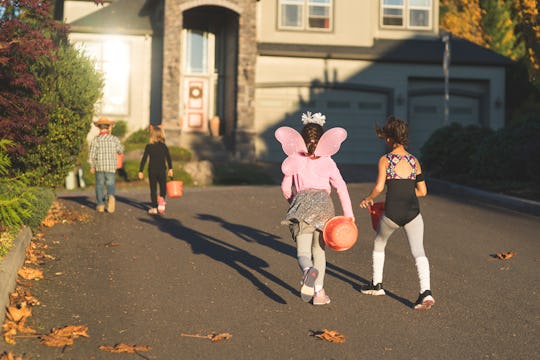 FatCamera/E+/Getty Images
7 Tips From Doctors To Help Make Trick-Or-Treating Safe For Your Neighborhood
Trying to convince my kids that Halloween in 2020 can still be fun without conventional door-to-door candy collecting is like pulling teeth. If there is any way to save their beloved tradition, I'm all ears. Believe it or not, there are actually ways to make trick-or-treating safe for your neighborhood. Experts say it just takes a bit of prep and planning to ensure that your Halloween night stays as germ-free as can be.
Although the Centers for Disease Control and Prevention's (CDC) guidelines for staying safe this Halloween during the ongoing coronavirus pandemic put traditional trick-or-treating squarely in the high-risk category, certain adjustments can be made to help make engaging in the activity safer. While only hitting up select family homes in a trick-or-treat pod, staying socially distancing, and utilizing grab-and-go goodie bags isn't exactly the idyllic version of trick-or-treating I remember from my own childhood (or, you know, even just last year), some version of trick-or-treating is definitely better than none at all.
Within your own neighborhood, there are several steps to take to help encourage safe trick-or-treating so that every family can create memories with their kids that will last a lifetime. Take a look at how your neighborhood can work together to keep Halloween traditions alive during this trying time.