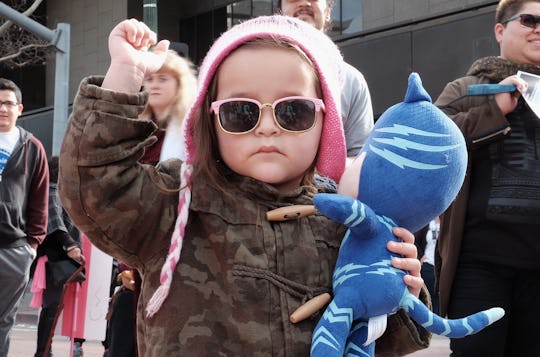 Sarah Morris/Getty Images News/Getty Images
Ways To Raise Your Daughter Without White Feminism
Raising a daughter is significantly harder than I thought it would be, but my daughter is white. That means life isn't going to be as difficult for her as it is for non-white, non-cisgender women. Her white privilege is very real and so is every white girl's. Which is why knowing ways to raise your white daughter without white feminism are more than just important — they're incredibly necessary.
White feminism isn't new, but with the recent women's marches taking place all over the country, the term is lighting up the world in a big way. Mainly, it's being used to teach white women what they are missing when it comes to feminism, inclusivity, and actually fighting for injustice. Too many white women are angry at the term. I was one of those women, too, until I took a long hard look at my privilege and what it means to support white feminism. And you know what? You might be supporting it and have no idea, but that means you're raising your daughter with white feminism, too.
Feminism, across the board, isn't the same for white, cisgender women and women of color or non-cisgender women. The issues aren't the same, the fights aren't the same, and the concerns definitely aren't the same. While white feminism is rooted in important issues like equal pay and a woman's right to her own body, it's hard for white women to understand a black woman's insistence on fighting police brutality or a transgender woman's fight for equal bathroom rights — but that doesn't mean that just because these issues don't affect us that we shouldn't still be concerned with it. White feminism is being a feminist, but only as it applies to you and people who look like you, and it goes against everything feminism should actually stand for.
But that doesn't mean you have to put up with it. There are seven ways you can make sure to raise your white daughter without white feminism. (And if I'm being honest, there's a lot more than seven ways to do this.) Though understanding your white feminism is a learning experience, with these few steps, you can make it so your little girl is standing up not only for herself, but for everyone around her.