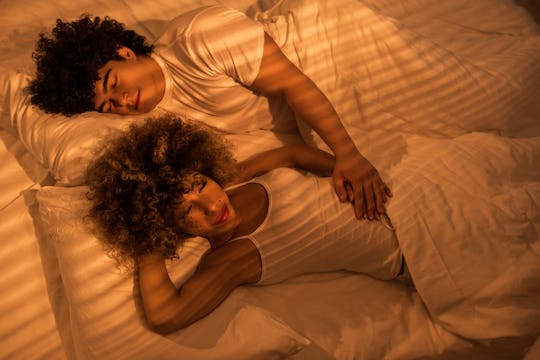 BraunS/E+/Getty Images
7 Signs You Might Have Insomnia & Not Just Normal Sleep Issues (Like Kids)
On a typical night I sleep five and a half hours. Maybe six. Yet one cup of coffee gets me through the day and while I occasionally might have the heavy-eyelid feeling when I'm sitting at my desk, I generally make it through the day fine and functioning. Much of the reason that my sleep time is so short is because I wake up at 5 a.m. and rarely fall back to sleep. Is this abnormal? Is it something serious? Sometimes it's hard to know if you have mild insomnia and not just normal sleep troubles.
Insomnia includes difficulty falling asleep as well as difficulty remaining asleep, often resulting in tension headaches, anxiety about sleep, trouble concentrating and extreme daytime fatigue, according to Healthline. Insomnia can be temporary or chronic. Most adults experience some form of insomnia in their lifetime and, according to the Sleep Management Institute, there are a variety of causes including psychological disturbances, medication use, or caffeine consumption. According to Sleep Education, sometimes a disruptive sleep environment, like sleeping next to a snoring partner or one who tosses and turns too much, can result in suboptimal sleep. People who use alcohol to fall asleep often find that their consumption actually leads to less sleep, not more or better sleep.
If you think you may have insomnia, it's important to seek medical help, again according to Healthline. A doctor can help determine the cause of the problem and rule out medical issues, such as kidney disease or hypothyroidism. He or she may ask you to keep a sleep diary and possibly even undergo a supervised sleep study.
These are a few things you can check to know if your sleep difficulties are considered insomnia.