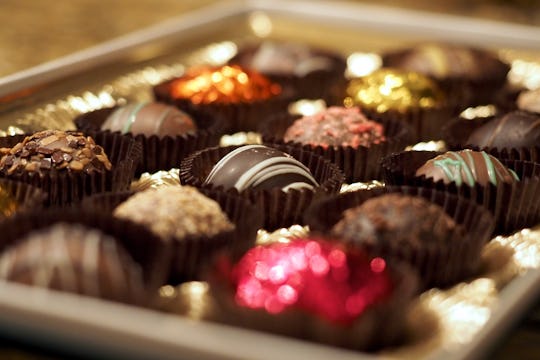 Austin Kirk/Flickr
7 Wine & Valentine's Day Candy Pairings To Give Those Store-Bought Treats A Fancy Feel
Valentine's Day may not be your favorite holiday, but it's definitely a good reason to indulge in two of your favorite vices — wine and candy. And combining the two? Even better. You may find some alcoholic chocolates out there, but why not up the ante on the holiday by finding some great wine and Valentine's Day candy pairings?
Although it's a day catered to couples, that doesn't mean you can't enjoy the red and pink holiday on your own. When I've spent Valentine's Days as a single lady, I've loved grabbing bags of my favorite candy and a bottle of wine. Not because I'm desperate or depressed or trying to drown my sorrows in calories, but because I'm my own valentine. Whitney said it best —learning to love yourself is the greatest love of all. And you know what? I'm loving myself with candy and wine.
And if you have a significant other, consider this your dessert. Plus this is the perfect way to enjoy your kids' Valentine's candy that they bring back from class. I mean, your 6-year-old can only eat so many Reese's hearts. So I spoke with Jill Davis, wine director of Del Frisco's Double Eagle Steakhouse in Orlando, Florida for her expert opinions on pairing our favorite Valentine's Day candies with wine. You're classy and you're fancy, so unwrap those candies, put them on a pretty tray and pour yourself a giant glass.