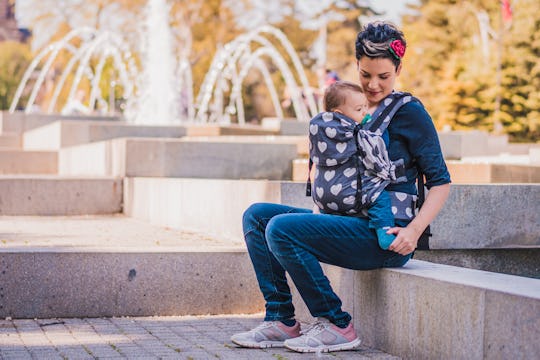 Shutterstock
These 8 Attachment Parenting Myths Need To Be Debunked, Once & For All
Attachment parenting is one approach to raising kids that can easily be misunderstood. While the experience varies widely, this method appears to require parents (primarily mothers) to devote every single moment to the child with baby-wearing, co-sleeping, and on-demand breastfeeding. But as the common attachment parenting myths go to show, this particular method of parenting can be misrepresented. Attachment parenting can be adapted to fit many families' needs, because it isn't a one-size-fits-all set of rules.
Popularized by the publication of The Attachment Parenting Book : A Commonsense Guide to Understanding and Nurturing Your Baby by pediatrician William Sears and registered nurse Martha Sears in 2001, attachment parenting advocates deeply bonding with your baby. The six "Baby B's" that form the background of this parenting style include Bonding, Breastfeeding, Baby-wearing, and Bedding close to baby, as well as a Belief in the language value of baby's cry, and the warning to Beware of baby trainers. This intense form of attachment is seen as a nurturing way to raise a child in a seemingly detached world.
In the past few years attachment parenting has gained its share of advocates and detractors. For instance, attachment parenting (AP) has been criticized as needlessly exhausting to new mothers, as well as a privileged choice, as noted in Romper. However, the parenting approach still has its supporters as well.
"The bottom line is that when you separate the popular exaggerations of AP from the more objectively-oriented scientific studies, it's a sensible approach that fosters physical and psychological health in children," wrote Susan Krauss Whitbourne, Ph.D., ABPP, a Professor Emerita of Psychological and Brain Sciences at the University of Massachusetts Amherst, in Psychology Today. To get a better sense of the parenting style overall, consider the myths about attachment parenting.