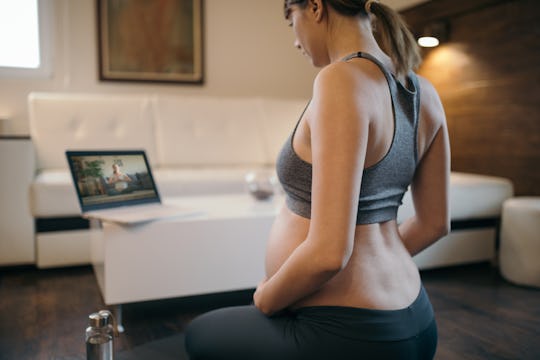 miljko/E+/Getty Images
If You're Curious About Lamaze, Start With These 8 Classes On YouTube
You've likely heard of the Lamaze childbirth method, and you probably know it involves some kind of funny breathing (thanks to almost every movie scene featuring a woman in labor from the last 30 years), but that might be the extent of your knowledge. Fortunately, for the curious pregnant woman who can't leave her house, the best online Lamaze classes on YouTube range from introductory to advanced.
We can thank 1950s French obstetrician Dr. Fernand Lamaze for the word "Lamaze." His childbirth practice of relaxation techniques came to be called the Lamaze Method after he discovered the U.S.S.R.'s use of psychoprophylaxis, a method of pain relief based on hypnosis, reported The New Republic.
Today, Lamaze is associated with natural child bearing and encompasses the use of breathing and concentration techniques designed to help women feel confident in their childbirth experience. Lamaze International, a nonprofit organization, describes its method as a way to "help reduce the use of unnecessary interventions and improve overall outcomes for mothers and babies."
In these videos, you'll learn the fundamentals of what Lamaze entails, as well as specific exercises you can use to hopefully improve your birthing experience. There are breathing techniques, movement suggestions, pelvic floor drills, and breastfeeding advice. For more information, classes, and instructors, visit lamaze.org.