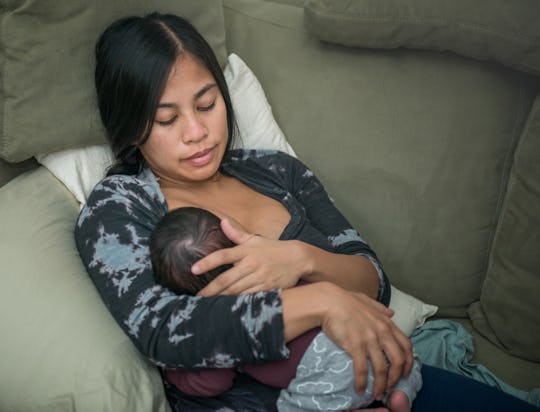 Layland Masuda/Moment Open/Getty Images
8 Breastfeeding Myths You Don't Have To Believe (And Honestly Shouldn't)
Like a tentative relationship status on Facebook, breastfeeding is complicated. When I was pregnant, unsolicited warnings and encouragements regarding breastfeeding were bestowed upon me all the time. There was so much buzz, so much hype, about the topic from my fellow mom-friends, in parenting books, on the interwebs, and in my birthing class that I could barely separate fact from fiction, let alone the fact that someone else's fact could be my fiction, and vice versa. I didn't know what myths to ignore about breastfeeding, and which to believe.
Spoiler alert: I opted to remain optimistic about breastfeeding in general which, in retrospect, didn't necessarily prepare me for what would end up being some very difficult first few weeks of parenting. But hey, my son and I came out the other side and have both enjoyed a (mostly) nice, (surprisingly) long, mutually beneficial breastfeeding journey so everyone wins, I suppose. Not only did breastfeeding provide some pretty amazing benefits, it also provided me with lessons about parenting and motherhood and feminism and always keeping my phone charged and within reach. It also reminded me that you don't always have to take everyone else's advice and sage wisdom to heart (however good their intentions may be when offering it), and you definitely don't have to believe all the myths about breastfeeding that circulate.
Honestly, the majority of your time as a parent will be spent separating fact from fiction in order to make the best decision for you and your kid. Breastfeeding, of course, is no different. So, in an attempt to make the entire process that much easier, here are a few breastfeeding myths that you definitely don't have to believe.