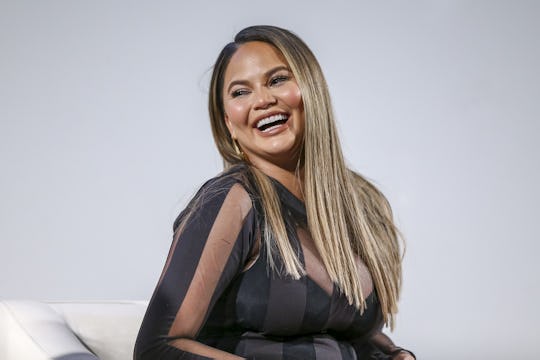 Rich Polk/Getty Images Entertainment/Getty Images
8 Celeb Moms Who Expertly Fight Back Against Mom-Shamers
It's no secret mom-shaming is an epidemic these days thanks to the popularity of social media. Sadly, it's all too easy for people to leave a nasty comment or pointed jab about a stranger's parenting skills without recourse. Celebrity moms know this phenomenon all too well as they often face criticism from fans who painstakingly analyze each and every single photo they post. In fact, mom-shaming celebrities is so common that it's basically a sport at this point. The good news is, however, there are plenty of famous parents out there who speak out against internet trolls on the daily. And on that note, here are eight celeb moms who defiantly fight back against mom-shamers.
If you google mom-shamers and celebrities, you'll be treated to tons of articles about famous parents who face constant attacks for their parenting choices. Take someone like Jessica Simpson, for instance. The mom of two is scrutinized for every little thing she does, even when the backlash completely defies logic. Want proof? Look no further than the mean comments Simpson received when she didn't smile in a photo taken at her son's 5th birthday party. Yeah, that happened.
Although Simpson prefers to ignore her haters (this is 100 percent fine, BTW), there are plenty of famous moms who are willing to slam their haters outright. That being said, here are eight celeb moms who fight back against mom-shaming.
Chrissy Teigen
Teigen is arguably the queen of fighting back against mom-shamers. While there are a billion examples to back up Teigen's unofficial title, there is one particularly satisfying clapback that comes to mind. It all started when Teigen shared a photo of herself breastfeeding her son, Miles, and a baby doll in front of her daughter, Luna. "Luna making me feed her babydoll so I guess I have twins now," Teigen joked, according to Instagram.
Of course, one user on Twitter couldn't help but bash the pic. "Christ in a hand basket," the person penned, according to Twitter. "Menstruating, childbirth and sex are natural, too, but that doesn't mean I want to see pics of it and/or celebrities like @chrissyteigen taking a bath or nursing. We get it."
Well, Teigen addressed that nonsense ASAP. "I don't care to see grainy fireworks, coachella selfies or infinity pool pics but i let people live," Teigen responded, according to Twitter. "Calm your tits and scroll on by."
Well said.
The Kardashian Sisters
Kourtney, Khloé, and Kim Kardashian are experts in the art of combatting mom-shamers.
Kourtney, the first Kardashian sister to give birth, isn't afraid to shut down her critics with a little dose of sarcasm. When a mom-shamer questioned the whereabouts of Kourtney's three kids while she was on vacation, she replied, according to Instagram: "My son was taking the photo, and the other two were sitting at a table across from me. Thank you so much for your concern."
As for Kim, she prefers to use humor against her mom-shamers. When a fan accused Kim of waxing a then 6-month-old North West's eyebrows, she joked, according to People: "Do people really think I would wax my daughters eyebrows so young? Come on, I'd wait until she's at least 2 1/2!" Ha.
New mom Khloé is just as vocal as her sisters when it comes to slamming her haters. When some people critiqued Khloé for working out while pregnant, she took the opportunity to school them on Twitter. "For the ones who think they are physicians all of a sudden but MY doctor and I communicate and my workouts are cleared and highly recommended," she wrote, according to Twitter. "Thanks kiddos! Don't make me stop sharing shit."
Julia Stiles
Some celebrities don't expect to be mom-shamed, which is understandable because who assumes people will be mean to them during what's supposed to be a happy time? Sadly, Stiles learned about the prevalence of mom-shaming the hard way when she shared a sweet pic of her son, Strummer, in November 2017. Apparently, people accused Stiles of incorrectly holding Strummer in a baby carrier.
In response to the drama, Stiles crafted a pointed and level-headed message on Instagram. Stiles wrote:
It was brought to my attention that in the previous photo I am not holding my baby correctly. Wow, I didn't expect that," Stiles said about the reactions from fellow parents. What was supposed to be a shout out of products I like suddenly becomes an invitation to comment on my baby, and my ability as a mother. That's the internet for you, the carnivorous plant from Little Shop of Horrors. I was trying to keep as much of my son's image private, including, I guess, his little feet. And it was just a photo taken at home, not how I normally carry him around. Thanks for the concern, anyway. Yes, Mothers, always read the safety instructions. But also, Instagrammers: instead of writing snarky comments about a 5-week-old, try dancing around your living room to a Clash record. It's way more fun.
Tell 'em, Stiles.
Hilary Duff
Duff hit back at mom-shamers after she received backlash for kissing her then 4-year-old son, Luca. In the controversial snap taken at Disneyland, Duff planted a sweet kiss on Luca's lips. Sadly, a lot of commenters deemed the photo to be inappropriate. The upside is Duff didn't entertain the nonsense for a second.
"For anyone commenting that a kiss on the lips with my four year old is 'inappropriate' go ahead and click a quick unfollow with your warped minds and judgment," Duff shot back to her critics, according to Us Weekly.
Yep, don't come for Duff, people.
Pink
Shortly after Pink announced her second pregnancy in December 2016, she shared a snap of herself enjoying a cup of decaf coffee. And as one might expect, mom-shamers had a field day with the snap.
Luckily, Pink had the right response to people who went on about the supposed dangers of drinking decaf coffee while pregnant. Not only did Pink advise her haters to read an article about mom-shaming over a cup of coffee (good one) but she also declared herself to be a "mommy shamer shamer."
Kristin Cavallari
True to Cavallari's fierce persona on The Hills, she doesn't mess around when it comes to mean-spirited comments about her kids or parenting.
One of Cavallari's more memorable clapbacks is when she shut down people who accused her of withholding food from her kids. Needless to say, Cavallari didn't tolerate the drama.
"Yep, I starve my children," Cavallari sarcastically said, according to Us Weekly. "Just blocked the most people I've ever blocked in my entire life. Happy 4th hahaha."