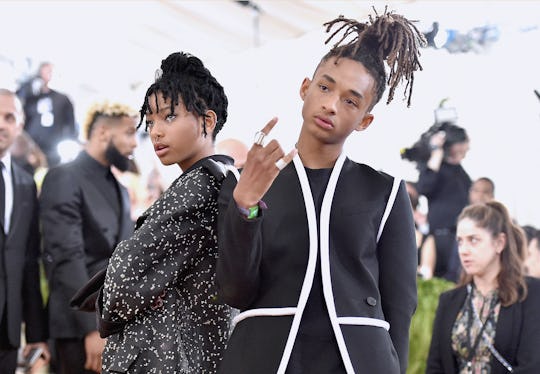 Mike Coppola/Getty Images Entertainment/Getty Images
8 Celebrity Kids Who Will Make You Feel Old
We've all been there, that cute niece who you used to bounce on your lap, is now making serious decisions about her relationship, her career, and which cocktail to order. It's that moment when you say to yourself, "if they are that old, what does that make ... never mind." Yeah, thanks a lot kids. And to make matters worse, the feeling is inescapable, whether you're cool with it or not. Why? Because even if you don't have a lot of younger family members, or kids yourself, to (so graciously) help remind you about how much you've aged, there's enough celebrities whose kids who will make you feel old.
Whether you're a die-hard movie fan, a lover of '90s sitcoms, or just have a passion for gossip and celebrity news (no shame in your game), you remember when a certain celebrity made their big pregnancy announcement. You may have even associated that with a time in your life, like how many people will remember the days they learned Blac Chyna and Rob Kardashian, through a web of interesting connections, announced they were expecting.
So, it's not surprising that you'd spit out your morning coffee at the sight of what used to be a public pregnancy announcement becoming a real living and breathing adult. Where did the time go?
Below are just a few of the celebrity "kids" who have grown up super fast and are now making millennials feel old.
Zoe Kravitz, Daughter Of Lisa Bonet & Lenny Kravitz
What happens when two really gorgeous, and just overall cool people make a baby? Zoë Kravitz. The 27-year-old was born to two really talented people, Bonet, who notably played Denise Huxtable on The Cosby Show and A Different World, and Lenny Kravitz, a grammy-winning singer, songwriter, and generally, a rock star. Many people remember when Lenny Kravitz and Bonet were coming up in their careers, got together, and shared beautiful pictures with their baby (they still take awesome family photos). Now, Kravitz is a 27-year-old, politically engaged, musician and actress, who looks nearly identical to her mom and seems to refuse to age herself.
Suri Cruise, Daughter Of Tom Cruise & Katie Holmes
It seems like it was only yesterday when Tom Cruise was jumping on Oprah's couch to express his love for his, now ex-wife, Katie Holmes. Well it wasn't yesterday — it was 11 years ago, and now Suri is 10 years old. Yes. Let that sink in.
Jaden & Willow Smith, Children Of Will & Jada Pinkett Smith
Remember when Will Smith used to rap about how "parents just don't understand" in the late '80s? Wonder what he thinks now that he's a parent to three children, Trey, 23 (with his ex-wife Sheree Zampino), Jaden, 17, and Willow Smith, 15. Who could forget the adorable 8-year-old Jaden Smith acting alongside his dad in The Pursuit of Happyness in 2006. Nowadays, he's fearlessly combating societal gender norms and totally unapologetic about it.
Max & Emme Muñiz, Children Of Jennifer Lopez & Marc Anthony
Lopez and Anthony announced they were having twins nine years ago, ya'll. In 2007, J. Lo and Anthony held hands on stage at a concert when Lopez officially announced, pregnancy glow and all, the couple was expecting. Well, fast forward nine years, their twins are now 8-year-old cuties who apparently have an affinity for Disney World. In a recent interview on Late Night with Seth Meyers, Lopez noted that she's finally realizing her little ones are growing up. "I realize they – they're not babies anymore," she said.
I feel ya, J. Lo.
Ava & Deacon Phillippe, Children Of Reese Witherspoon & Ryan Phillippe
Ava and Deacon Phillippe are 16 and 12 respectively. How can that be? Weren't Witherspoon and Ryan Phillippe just playing two high school students madly in love with each other in Cruel Intentions? Sigh. No, that was 17 years ago. Now their children are teen and pre-teen aged people with cool styles, including Ava's pink hair she's rocking these days.
Thanks for the reminder that the years are speeding by, kiddos.