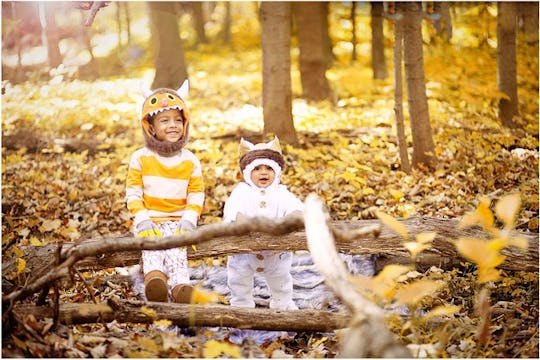 Courtesy of Ojus Patel
8 Clever Halloween Costumes For Brothers So They Can Get All The Treats
One of the greatest things about Halloween is having the chance to do something as a family. We all know the phase of being able to dress our kids as we please doesn't last long, so you might as well take advantage of it, right? As a self-proclaimed Halloween lover, and mom of two boys, I'm all about awesome, clever Halloween costumes for brothers, and I plan to ride that wave as long as I can. The planning behind coordinated costumes satisfies your creative ego, and more importantly, your boys will look both clever and cute on the big night.
Most of these costumes are great on their own, but adding in a brother really takes it to the next level. Just like your boys, these characters really rely on each other — they simply stand better together than they do alone. The costumes featured here range from beloved literary characters, to current cultural phenomena. Some are easier to buy, but in my opinion, any can be DIY with just the right amount of commitment. All are good options for your little ones, and can give you one thing to check off your list as you enter the holiday season.
I'm learning that the most wonderful thing about being a parent to brothers is they way you can see little glimpses of their relationship starting to bloom. Halloween is great way for them to have a little fun together. As an added plus, when they start arguing over that last piece of candy, and you're about ready to pull your hair out, they'll look really adorable.