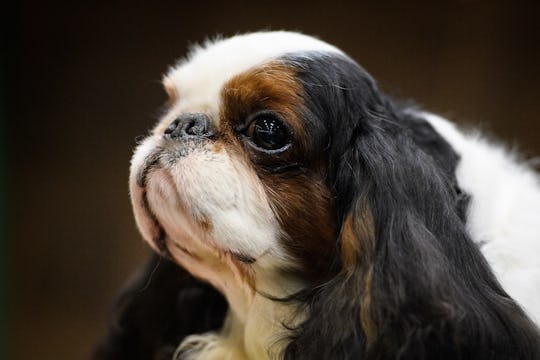 Leon Neal/Getty Images News/Getty Images
If You're Looking For A Quiet Dog, These Are The Breeds That Bark The Least
Dogs bring tons of tail-wagging joy to our lives and that of our kids. While every dog deserves a loving home, not every dog is right for every household. Some families need a breed whose fur is considered safe for people with allergies. Others have a boisterous home and want a dog that doesn't mind all the excitement. Then there's the noise factor of the dog itself. If you're looking for breeds of dog that bark the least, there are certain types you'll want to look at first before considering the rest.
"Dogs bark, basically, and I hope that no one is looking for a dog that doesn't bark at all, but the amount of barking can vary according to breed," explains Carly Fox, DVM, a staff doctor in the Emergency and Critical Care department of the Animal Medical Center in New York. "Some owners might prefer a dog that barks if they have a large yard or want a protector, but if you live in an apartment, you might want a quieter one," Fox adds.
Smaller children might be frightened by an overly vocal pooch, which would go against the whole idea of having a pet in the first place. Or maybe parents might decide that their kids are rowdy enough without adding a yappy dog to the mix.
"To determine whether an individual dog is a 'barker,' it's best to get to know them and observe their behavior under a variety of situations," explains Jennifer Coates, DVM, a vet expert for Chewy. "The dog's breeder, previous owner, or shelter personnel should also be able to give you an idea of how vocal they are."
Here are some of the breeds vet experts recommend for families looking for a quieter pet.