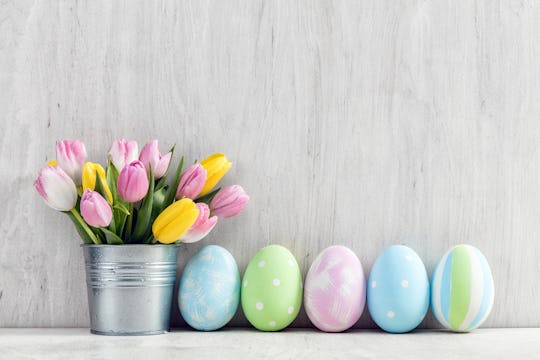 Photocreo Bednarek/Fotolia
8 Creative Easter Ideas That Your Whole Family Will Love
Kids will always remember the effort their parents put into making the holiday season bright. For me, the best memories are born of the light touches — red and green tinsel over a fireplace, sparklers at dinner — but while nowhere near as popular as its winter counterpart, there's no reason Easter can't be just as memorable. Here are eight Easter ideas for 2018 — and like I said, the joy is the little things.
First, the basics. What's more fun — or more, well, Easter — than decorating a basketful of hardboiled eggs? Break out the pastels and pearlized paints, or if you're feeling crafty, decorate Easter eggs with an eraser tip dipped in water colors, suggested Better Homes & Gardens. Another cool way to create memorable art out of your hardboiled Faberge eggs is to decorate them with pages from a book cut into strips, according to Stone Gable Blog. For an extra classy touch, wrap them in twine. And if you prefer metallics to pastels, you can spray your eggs in bronze or gold, suggested 79 Ideas. I also love the DIY gold leaf eggs featured on A Little Craft In Your Day.
Truly, Easter options are endless, limited only by your creativity. And you don't have to spend a lot of money, either. Case in point: Beyoncé was recently spotted buying packs of $5 dollar plastic Easter eggs at Target, according to Good Housekeeping, further proving that every mom, no matter her income bracket or star power, is head over heels in love with Target. If you're the crafting type, there's also plenty of DIY Easter decor you can make yourself. For the cooks, there's food. And for parents with toddlers, finger paints and games. Happy Easter, everyone.