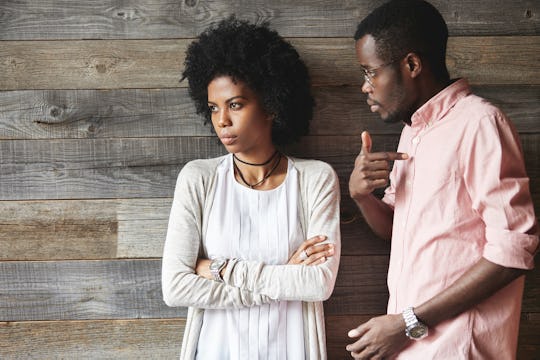 Wayhome Studio/Fotolia
8 Fights Every Couple Has That You Can Totally Blame On Your Mother-In-Law
Every couple fights once in a while. Even couples in great relationships disagree. It's totally normal and can be healthy. But then there are the unhealthy fights, often caused by people outside the relationship. Personally, my partner and I endure plenty of arguments that aren't caused by the pair of us, but by his mother. Thankfully, this isn't atypical either. There are some fights every couple has that you can absolutely blame on your mother-in-law, the way she raised your partner, the way she views you, or the things she does to meddle in your relationship.
In talking with my mom friends, I have learned that I'm not alone in this experience. Turns out, mothers-in-law are often a source of marital conflict. According to psychologist and author Terri Apter, Ph.D., this is because, in heterosexual relationships, men have a hard time backing up their wives when it means disagreeing with their mothers. They feel like they are forced to choose sides, their wives feel abandoned, and their mothers blame their daughters-in-law for changing their relationship with their sons. In fact, researchers from the University of Cambridge and the nonprofit Stand Alone surveyed over 800 people who were estranged from a parent, child, or sibling. One in four mothers of sons said not getting along with their daughter-in-law was the reason for issues with their child.
Personally, I feel like the strain my mother-in-law puts on my relationship is completely unfair. And the worst part, of course, is that I feel like there's nothing I can do to fix it. Then again, maybe I shouldn't feel responsible for fixing it at all, especially when it's not really about me at all. So with that in mind, here are a few fights you can expect to endure that are without-a-doubt your mother-in-law's fault.