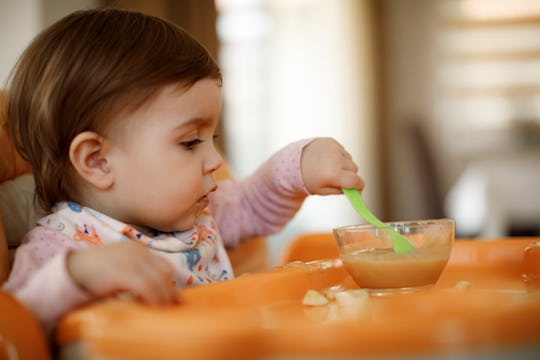 damircudic/E+/Getty Images
These Are The Best 8 Foods To Feed Babies When You're Trying To Wean
When you're ready to stop breastfeeding, there will be a transition period for you and your little one. To make this process a little smoother, you can start to introduce foods that help wean your baby off breast milk. These foods will still give them the nutrients they need, get them excited about eating, and prepare them for success when you've reached a stopping point.
When you choose to wean your baby is completely up to you, but after age one the breast milk will be a supplement to a child's diet rather than the majority of it. "When babies turn 12 months old, their nutritional needs shift from liquids to solids," pediatrician Whitney Casares M.D. tells Romper. At that point they are commonly introduced to "cow's milk or other appropriate alternative milks." Before that, breast milk (or formula) is the main source of nutrition for a baby and "most experts recommend starting to introduce solid foods to your baby at 6 months of age," according to Jillian Kubala, M.S., R.D., and a Healthline Medical Advisor. Over the course of this time, you can start introducing your baby to different nutrient-rich foods to prepare them for the weaning process.
It's important to remember that weaning is not a cut-and-dry process. "Weaning should be a transition, removing a feeding every few days to help adjust the baby," dietician Anita Mirchandani, M.S., R.D., C.D.N., tells Romper. "Each baby is different and will respond differently." So, don't get discouraged if you hit some bumps in the road along the way. Dr. Casares recommends "cutting out pumping sessions or direct breastfeeding sessions slowly over time if possible to help your body and your baby handle this transition smoothly." Also, Mirchandani notes "weaning could make a child more clingy due to the fact they were used to more physical connection, so try to make it up with other physical interaction that's similar such as hugging, cuddling, [and] one-to-one time."
As for what foods to give your baby, Dr. Casares says, "Introducing a wide variety of solid foods... during this transition helps kids develop a diverse palate and encourages healthy weight gain." That being said, Kubala recommends "Avoid[ing] foods that are high in added sugar or highly processed" and urges parents to speak to their child's doctor before "introducing allergenic foods like peanuts and shellfish." Otherwise, there are a lot of delicious foods for your little one to explore, and to get them one step closer to weaned.