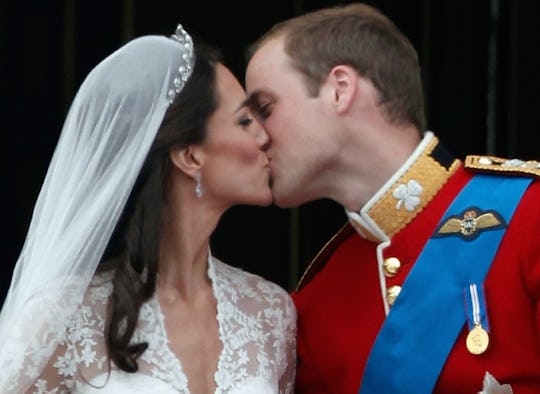 Christopher Furlong/Getty Images Entertainment/Getty Images
8 Fun Facts About Royal Weddings To Get You Primed For The Big Day
It's exactly two more weeks until American actress/philanthropist Meghan Markle marries Prince Harry. To me, this is sort of the best time, the days leading up to the thing rather than the thing itself. A time to be excited, to imagine all of the things that could go right or wrong on the big day... especially since it's not my wedding day so I get to just sit back and watch it on the old television. It's also a great time to do a little data mining, like researching some fun facts about royal weddings from the past that might not be common knowledge.
Even people who aren't big into the royal family are probably secretly a little excited about the wedding of Meghan Markle and Prince Harry. I mean, a divorced 36-year-old American actress is about to marry the youngest son of the next King of England. Anyone who has read a little history or, indeed, just watched The Crown on Netflix knows that a relatively similar story lead to the abdication of King Edward VII in 1936. When the king wanted to marry divorced American socialite Wallis Simpson, he was forbidden to do so and gave up his throne for love. And now, it looks like the British royal family has come a pretty far way because they get to do both. Which should be an occasion for celebration, I think, and good reason to look back at some of the interesting wedding traditions of the royal family.
White Dress
Wearing a white dress on your wedding day has become a pretty common theme, and we have the royal family to thank for that. Or more specifically, Queen Victoria. When she married Prince Albert in 1840, Queen Victoria was the first woman to wear a white dress on her wedding day. Prior to that, most women wore bright colors. And her decision, which would go on to change the ways brides chose their dresses for almost 200 years, was not based on the idea of purity, according to biographer Julia Baird;
Victoria had chosen to wear white mostly because it was the perfect color to highlight the delicate lace [of her gown.
She also asked that no other woman wore white to her wedding, another tradition with incredible staying power.
Tiaras
Royal brides, like Kate Middleton, Queen Elizabeth, and Princess Diana, traditionally wear tiaras on their wedding day. And I wish this was a thing that happened for all women, everywhere.
Glass Coach
Another tradition that needs to be brought into mainstream weddings; being transported to the church in a glass coach. When Princess Diana married Prince Charles in 1981, she (and her massive dress with the 25-foot long train) were taken from Clarence House to St. Paul's Cathedral in a glass coach. So too it was when Kate Middleton married Prince William in 2011, and hopefully we will see the same with Meghan Markle and Prince Harry.
Sprig Of Myrtle
Another tradition started by ultimate trendsetter Queen Victoria; she carried a sprig of myrtle from Prince Albert's grandmother in Germany in her bouquet. The myrtle was planted on the Isle of Wight, and since then royal brides like Queen Elizabeth, Princess Diana, and Duchess Kate have carried a sprig of myrtle from the ancient plant in their bouquet as a symbol of love in marriage. The royal bride places her bouquet on the Tomb of the Unknown Warrior after her wedding, a tradition started by Queen Elizabeth's own mother in 1923.
Wedding Cake Toppers
That Queen Victoria... is there any element of weddings that can't be traced back to her? She was also the first person to ask for a wedding cake (in the traditional flavor of fruitcake with royal icing, although Meghan Markle is reportedly changing the flavor of her cake to elderflower) to have tiny replicas of herself and her husband placed on top of her wedding cake. The two-tier cake weighed 300 pounds and was nine feet in diameter as well. So go big or go home.
Special Gold Ring
All wedding rings in the royal family since the early '20s are made from one type of very special gold; Clogau Gold of Wales from a designated mine in North Wales.
Kiss On The Balcony
Prince Charles kissed Princess Diana on the balcony of Buckingham Palace in front of millions of onlookers. Prince William and Duchess Kate did the same. It's become a fun nod to the millions of people who are invested in the royal couple, but I have some bad news for you; Meghan Markle and Prince Harry are reportedly skipping this tradition. The palace announced on Friday that they would be leaving Windsor Castle for their wedding reception at Frogmore House immediately after the procession, according to Us Weekly.
Sigh.
No Shellfish
Nobody order the lobster, because you won't get it. The royal family avoids any type of food at public functions that could cause food poisoning, and apparently shellfish is on that list.
Regardless of the no shellfish rule, the royal wedding sounds like it's going to be full of ancient customs and fun details. I can't wait to watch it on TV in my pajamas.