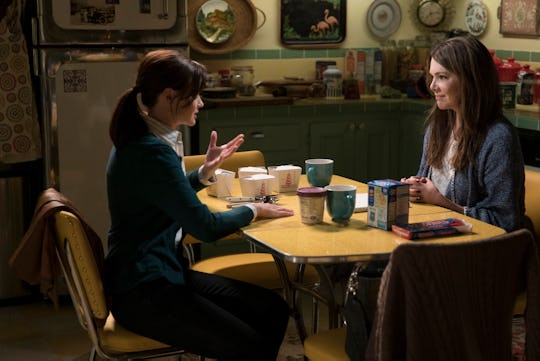 Saeed Adyani/Netflix
8 'Gilmore Girls' Revival Meta Moments That Deserve A Second Look
Unless you've been living under a rock for the past year, you know that Netflix's Gilmore Girls: A Year in the Life has been a widely anticipated installment of the much-beloved original series. Fans have been craving their Stars Hollow fix for almost a decade now, so when word spread that the show would not only be continuing on with four special episodes, but would also involve reuniting a majority of the cast, viewers were beyond excited. We wanted to revisit this town and these characters, which is why I was thrilled to see how often the Gilmore Girls revival got super meta as a subtle wink to diehard fans.
The cast and creators wanted to give the people what they wanted, part of which involved numerous callbacks to the original series that started it all. They wanted us to remember all of the intricate details from seasons past. Sure, you could still watch the show as a newcomer, but there's no way you'd be able to pick up on the little hidden gems sprinkled throughout that harkened back to its predecessor. So just in case you were too focused on other plot points throughout your first viewing, here are some of the clever meta moments from the Gilmore Girls revival that are definitely worth a second look.
1. Lorelai & Rory's Reunion
Right off the bat, the series gave our leading ladies some very meaningful dialogue with Lorelai telling her daughter how much she missed her and Rory responding with how it's felt like years since the two of them were together. Considering the show has been off the air for almost 10 years now, this could've just been Lauren Graham and Alexis Bledel talking to each other. I see you what you did, Amy Sherman-Palladino.
2. Lorelai's Sixth Sense Of Snow
Along with the opening, which featured many famous lines from the original series, Lorelai proved that her knack for smelling right when it was about to snow hasn't faded over the years. All she had to do was say, "I smell snow," and sure enough, there it was. It wouldn't mean much to a first-time watcher, but hardcore viewers understood this reference.
3. Sutton Foster's Character Name
Foster played the role of Violet, who went on to star in the Stars Hollow musical in the "Summer" episode. But what's interesting is that Violet is also the name of the show that Sherman-Palladino produced on Broadway with her husband. Oh, and did I mention that Foster had actually starred in it? Nice nod, ASP!
4. Doyle's New Job
A lot of fans were undoubtedly left chuckling after Paris revealed that the main reason for her split with Doyle was due, in large part, to his new career as a screenwriter. Considering that Danny Strong, who plays Doyle, has become a highly successful screenwriter in real life — having written/co-created breakout projects like The Butler and Empire — it was fitting to see his Gilmore Girls character share in some of that success.
5. All The Parenthood Cameos
From Graham's other TV daughter, Mae Whitman, to her real-life partner, Peter Krause, there was no shortage of references to the beloved NBC drama. Talk about worlds colliding!
6. Sophie Bloom's Singing Debut
After telling Taylor that she has some songs that she's written, which he can use for the ending of Stars Hollow: The Musical, Carole King's character, Sophie Bloom, went on to bust out a few very recognizable lyrics to her real-life hit song, "I Feel the Earth Move." Speaking of which...
7. The Other Town Troubadour
Louise Goffin played the town troubadour's sister, which was a nice nod to Goffin's other big contribution to the original series: singing the theme song with her mother, Carole King.
8. The Bunheads Cameos
Much like with Parenthood, the revival was also full of Bunheads cameos, which was ASP's project immediately following her departure from Gilmore Girls. From Stacey Oristano and Julia Goldani Telles to Sutton Foster herself, it quickly became clear that this revival wasn't just reuniting Stars Hollow residents. And for that, I am forever grateful.
I think this is more than enough incentive to go back for a second viewing, don't you?