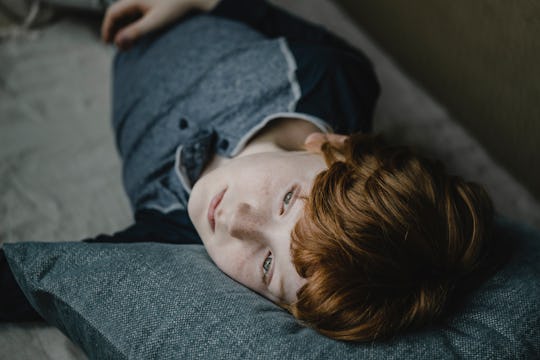 Westend61, Getty Images
8 Grounding Techniques For Kids With Anxiety That Parents May Benefit From, Too
I don't know of anyone who isn't struggling with some anxiety this year, and that includes kids — especially since their school lives are changing drastically, whether that means virtual learning or heading back to campus. Thankfully, there are grounding techniques for kids with anxiety to utilize, especially if they're heading back to school in person.
Things are going to be looking very different for kids this year — everyone wearing masks, smaller classrooms, spaced out desks, and maybe even some plastic barriers. Lunch and recess might not be a great reprieve either. It's not a stretch to assume that this may cause a bit of anxiety in our kids. I mean, it's causing me anxiety thinking about it for them, and grounding techniques can definitely help with these feelings.
"Grounding techniques are strategies that help reduce uncomfortable feelings and sensations such as anxiety, worry, and stress. Grounding exercises can be mental, physical, or a combination of both," says clinical psychologist Dr. Carla Manly, Ph.D. Grounding helps you be in the moment and not stress about the past or future.
"This mindfulness-based approach prevents the child from focusing on negative possibilities and worrisome events in the future. And, as anxiety arises from a fear of a future event, 'be in the present' grounding strategies naturally alleviate anxiety by calming the child's body and mind," she says.
Basically, these techniques are meant to help a child stop and pause, says Maureen Healy, author and emotional coach.
Children can begin using these grounding techniques as young as 2 years old, which may be helpful for those toddlers heading back to day care soon. Manly says they can start as soon as they can mimic a parent's behavior. "For example, a 2-year-old who is able to sit next to her mom for even a few minutes while the mom 'belly breathes' is practicing grounding skills," Manly says. "A 3-year-old who is able to mindfully stretch next to daddy — if only for five minutes — is practicing a grounding technique. A 4-year-old who learns to enjoy tossing a ball gently back and forth to ease anxiety is also practicing grounding techniques," she says. "That said, by the time a child is about 5 years old, the child can often consciously choose to engage in a grounding behavior that has been modeled by a parent or caregiver. This is why many toddlers will naturally go to a quiet spot to cuddle up with a toy or pet, or lay in the grass to breathe."
Below you'll find more examples of grounding techniques for kids with anxiety, and perhaps even parents can utilize these eight different techniques. Let's face it, 2020 has definitely thrown everyone for a loop, and all families could use a little bit less anxiety.