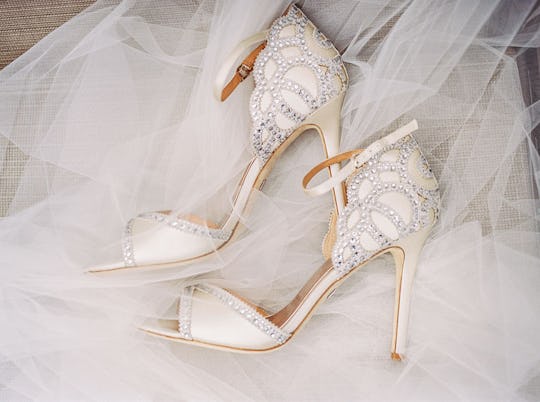 Kristen Curette Hines/Stocksy
8 Hacks To Actually Make Your Wedding Heels Comfortable
It's one of the best days of your life, but your wedding day is also one of the longest days, too. That goes double if you're wearing stunningly gorgeous but excruciatingly uncomfortable heels. If you don't want to spend your reception barefoot (or worse, counting down the minutes until you can go attend to your blisters), you'll definitely want to bookmark these hacks for making your wedding heels comfortable.
The most dependable way to make sure your wedding heels are comfortable, of course, is to just choose an extra comfy pair to begin with — Prevention noted that block heels and kitten heels are almost always much easier on your feet than stilettos. Even that isn't always a guarantee, however, since the problem is just as much about the amount of time spent on your feet as it is about the shoe itself.
Personally, I went with a wedge heel for my wedding and still ended up in a decent amount of pain. I definitely could have used a few of these hacks to save myself some blisters, but for the record, those shoes were beautiful and worth every bit of discomfort.
Beauty does not have to equal pain, however. Follow these six hacks with your wedding heels, and you'll be ready to dance the night away on feet that feel great.