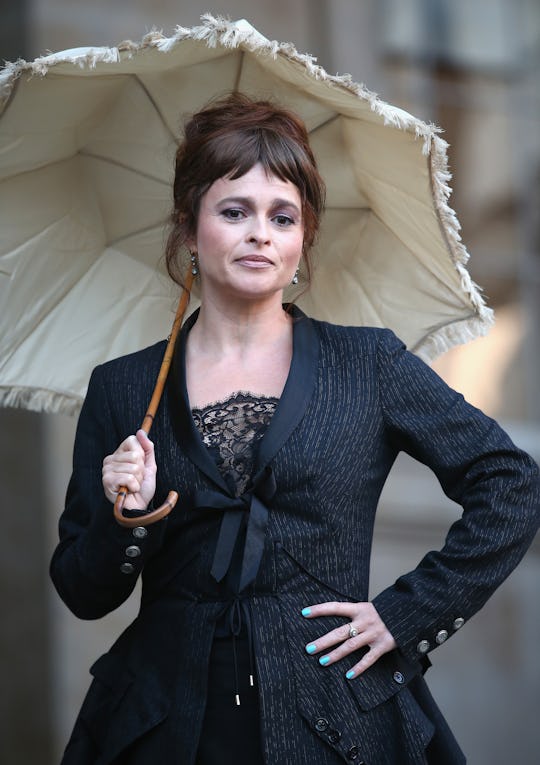 Chris Jackson/Getty Images Entertainment/Getty Images
8 Helena Bonham Carter Quotes That Prove She's One Badass Feminist
Helena Bonham Carter turned 50 on Thursday. That means we've had a full half century of Bonham Carter greatness. It doesn't seem like long enough yet, does it? The temptation to emulate her is strong, but would go against everything she stands for. Bonham Carter has been dazzling audiences for 30 years... and breaking stereotypes along the way. To celebrate the birthday of a True Original, here are eight Helena Bonham Carter quotes that prove she's a seriously badass feminist.
What is it about Bonham Carter that fascinates us so? Could it be the unbelievable range she has shown as an actress since she burst on the scene in 1986 with A Room With A View? She could have been typecast as "period drama girl" after that, all lush curls and smoky eyes, but she wouldn't have any of it. She has gone on to play Bellatrix LeStrange in the Harry Potter movies, Miss Haversham in a remake of Great Expectations, an ape in Planet of the Apes, and of course, the Red Queen in Alice in Wonderland and the upcoming Alice Through The Looking Glass, to name just a few.
She had children with her partner of 13 years, collaborator, Tim Burton, but never lived with him (the couple broke up in 2014 but continue to work together and raise their children). She dresses how she pleases, acts how she pleases, and always manages to seem like she would be gorgeous fun to hang out with in the process.
When you need a little reminder about the value of authenticity and feminism, look no further than Helena Bonham Carter.