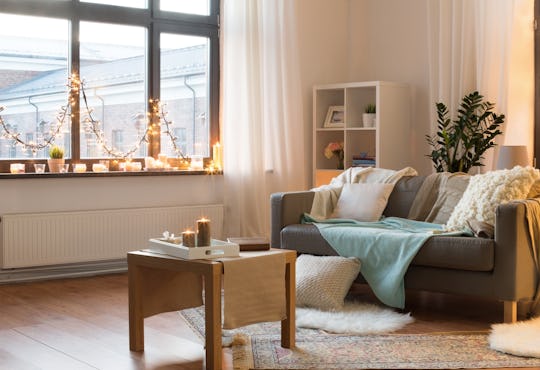 Shutterstock
These 8 Easy-To-Do Hygge Techniques Will Give You The Ultimate Cozy Feels
You probably see the buzzy term "hygge" on your favorite lifestyle blogs or hear it on an HGTV design show, and wonder what the heck hygge is all about. The Danish lifestyle trend evokes feelings of warmth and is all about comfort, but if you are living a fast-paced modernized life (especially with kids!), it may feel hard to find ways to incorporate hygge into your everyday life. These eight hygge techniques everyone should try for a cozy home are easy to do, and can help get you started on your journey to discover the true spirit of hygge living.
If you are not already familiar with the hygge trend of living a simplified, snuggly life, get ready to fall in love with the concept. Helen Russell, a British journalist and bestselling author of The Year of Living Danishly — Uncovering The Secrets of the World's Happiest Country, experienced first hand what hygge is and how it is lived in the actual culture where it originated. "The word defies literal translation but the best explanation I've seen in more than six years of living Danishly is 'the complete absence of anything annoying or emotionally overwhelming: taking pleasure from the presence of gentle, soothing things.'"
Ahhh. Don't you feel cozier just hearing that definition? Read on for ways to include hygge in your home and help create a comfortable space where you can enjoy happy, blissful moments between your toddler's inevitable meltdowns.