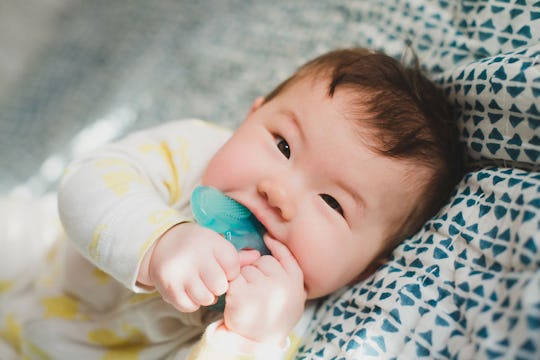 Lauren Naefe/Stocksy
These Expert-Approved Nighttime Teething Remedies Really Work
Babies experience many developmental phases that impact their temperament, eating habits, and of course, their sleep. Teething is one of the toughest baby phases that my kids went through, and it impacted my youngest son's already almost non-existent nighttime sleep in a huge way. It was rough. I knew what was going on, but I felt almost powerless to stop it. I tried teething rings, topical gels, homeopathic remedies ⁠— you name it, I tried it. What I didn't have at the time were a bevy of experts giving me ideas for nighttime teething remedies that really work.
"Teething pain is worse at night, since when you're laying down, if you have tissue that is inflamed in the mouth, it will throb and be more painful since more blood gets to it in a horizontal position," says Mark Burhenne, DDS, founder of AsktheDentist.com and author of The 8-Hour Sleep Paradox. "This is similar to a person recovering from wisdom tooth extractions." Ouch!
Dr. Suzy Tavana, AAPD National Spokesperson and President of the California Society of Pediatric Dentistry, explains that children may be more prone to feeling this type of pain at night due to how tired they are. "Teething becomes more intense at night because children feel the symptoms of pain and discomfort most acutely when they have fewer distractions, and are exhausted," she says.
My own kids are no longer teething babies (although we're dealing with some big kid molars right now and those are no joke either), but the tried and true advice of these dental experts is invaluable to any parent currently slogging through sleepless nights with a teething baby.