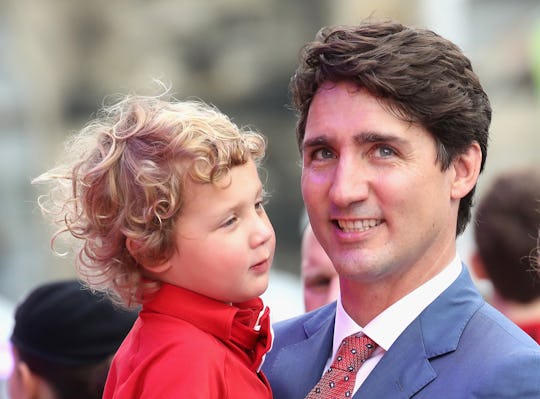 Chris Jackson/Getty Images Entertainment/Getty Images
8 Quotes From Justin Trudeau's Essay On Raising Raising Feminist Kids That Will Melt You
Canadian Prime Minister (of my heart) Justin Trudeau is due in Washington, D.C. on Wednesday to meet with President Donald Trump. Trudeau and Trump's agenda at the White House is to focus on updates to the North American Free Trade Agreement. While Trudeau's White House visit is already making headlines, his essay on Marie Claire's website has quietly flown under the radar on Wednesday. As a father of three young children, Trudeau is a parent on the world stage — which makes these eight quotes from Justin Trudeau's essay on raising feminist kids such a must read for every parent.
Trudeau's essay coincides with International Day of the Girl, but as the 45-year-old politician notes, feminism isn't just a women's issue. It's also important to note that, no matter how swoon-worthy Trudeau may be, or how much some feminists love him — he has his faults and isn't necessarily the completely liberal progressive the world has made Trudeau out to be. Trudeau has struggled with promises to First Nation communities; his controversial approval of the Trans Mountain pipeline certainly didn't help. Trudeau's refugee record is also not as liberal as some would think.
Even so, Trudeau's essay on raising his children as feminist is a really important read.
The Most Important Work
Some of the most important work I do is not as a political leader, but as a parent.
Trudeau opens his essay with this humbling reminder that before he became Canada's Prime Minister, he was a parent. It's also an important reminder to every parent just how important their job as a parent is to their kids.
The Unequal Obstacles
I witness the unequal obstacles women and girls face every day.
Trudeau notes that as a "father, son, husband, and citizen," he sees first hand the kind of inequality that exists for women and girls. Ultimately, Trudeau realizes this unequal world is the one in which his 8-year-old daughter Ella-Grace must grow up — at least for now.
Feminist Full Stop
That means raising her feminist. Full stop.
Knowing the kind of inequality his daughter will face in her lifetime, Trudeau is taking a proactive approach to give her the tools she needs to succeed. It's a model that any parent of a daughter can adopt, too.
Not Just Women & Girls
Gender equality is not only an issue for women and girls.
As even actress Emma Watson told the world at the U.N. in 2014, the issue of gender equality isn't just about women — it impacts men, too. Gender equity is a human right, not just a women's right. As the father of a girl and two boys, how he parents each in the context of a world filled with gender inequality is especially important. He's not just raising his daughter feminist, but his sons, too.
Power & Responsibility
Our sons have the power and the responsibility to change our culture of sexism, and I want Xavier and Hadrien — when he's a little older — to understand that deeply.
Even though Trudeau's sons Xavier and Hadrien are 9 and 3 years old, respectively, they are already aware of the power and privilege that comes with being a man: They can see it already in their father, a leader of a First World country. No matter how young they are, it's never a moment too early to teach them how to use that power responsibly in a way that advocates for and empowers women.
A Particular Kind Of Masculine
I want my sons to escape the pressure to be a particular kind of masculine that is so damaging to men and to the people around them.
Trudeau did not name toxic masculinity explicitly — but this quote is a reminder that kids can fall into the trappings of toxic masculinity, even with parental involvement.
Stand Up For What's Right
I want them to be comfortable being themselves, and being feminists—who stand up for what's right.
Ultimately, Trudeau's choice to raise each of his children as feminists is about helping them grow into good people.
A Part To Play
To raise our kids feminist is to recognize that they ALL have a part to play to build that world.
As Trudeau closes his essay, he offers a powerful reminder that it's important that parents teach their children that they matter, even as young kids: The world does not operate in isolation from them, and they have the power to make change for the better, too.
Watch Romper's new video series, Romper's Doula Diaries:
Check out the entire Romper's Doula Diaries series and other videos on Facebook and the Bustle app across Apple TV, Roku, and Amazon Fire TV.