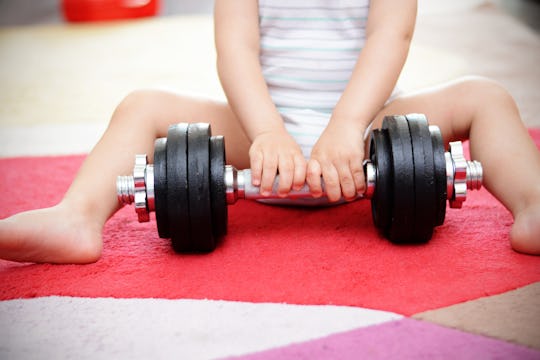 adrian_ilie825/Fotolia
9 Things Parents Do Every Day That Perpetuate Toxic Masculinity
If I learned anything from reading (and then watching) Big Little Lies, it's that toxic masculinity is most often the result of deep-rooted insecurity. This insecurity manifests in a man's need to somehow prove just how manly he is, then demonstrate his manliness by being emotionally and physically abusive. Insecurity breeds toxicity and parents sometimes unintentionally do things that perpetuate toxic masculinity. Both men and women are responsible for raising strong and kind men, but to say both will, in all likelihood, have the cards stacked against them is an understatement. After all, parents, themselves, were raised in a patriarchal society.
My brother wasn't allowed to cry when he was a little kid. My dad forbade it. Whenever my brother would cry, my dad would yell at him and tell him "boys don't cry," "real men don't cry," and "you're crying like a girl." When my brother was a little older, my dad made him cut off the leather bracelets he and his skater friends wore because "boys don't wear bracelets." Even as a kid I knew this wasn't right. I quickly identified the double standard, too. No one told me not to cry. In fact, as a girl I was expected to be emotional. Boys, however, are held to a different standard. Boys are supposed to be tough and "manly."
For a while, many people in our society seemed to be moving away from these "macho-men" archetypes. The emergence of hipster men, the Millennial men, the equal-partner men, and the sensitive-lumberjack men brought hope to women all over the world (or, well, at least women who value equality). Then, the "traditional men" decided such "emasculation" of men was intolerable and started strongly opposing this progress. Suddenly, people were vilifying these men and implying they are not "real men." And now we are seeing the re-emergence of toxic masculinity, which, according to Psychology Today, is "associated with detrimental social and psychological effects. Such toxic masculine norms include dominance, devaluation of women, extreme self-reliance, and the suppression of emotions." Honestly, though, I don't think toxic masculinity ever left.
Recently, I read a story about a woman who works as a clown and who was painting faces at a child's birthday party. During this party, a boy came up to her and asked for a butterfly. Both parents, mom and dad, vehemently refused to allow their son to get a butterfly and requested a skull and bones instead. As I read this story, my heart broke into a billion sad, lonely pieces. I pictured this little boy, who so badly wanted a beautiful butterfly, and his parents who so erroneously told him he couldn't have one for no reason at all, and my body ached in empathy. He wasn't allowed a butterfly, nature's beauty, just because he was a boy. And that, friends, is what breeds toxic masculinity. That and, well, the following: