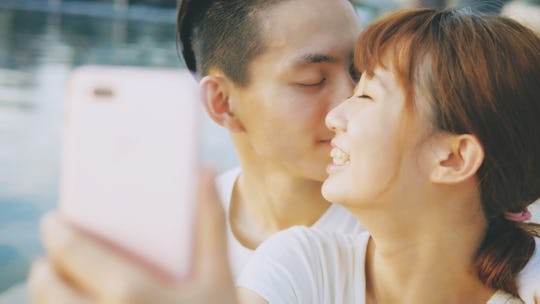 wayne_0216/Fotolia
8 Shocking Things You Never Knew About How Men Fall In Love, According To Science
You know how you felt when you first realized you were in love: all heart-poundy, tongue-tied-y, top-of-the-world. But do you know how the men in your life feel when they fall? Even though the result is the same — two people totally into each other — psychologists and neuroscientists have found that men fall and stay in love in unique ways.
The old stereotype about guys being unromantic and unsentimental deserves to be kicked to the curb for good. Men are just as likely to fall in love as women are, and in some ways they're more idealistic about it. According to Pew Research, men are more likely than women to believe in one true love, and they're also more apt to want to remarry after a divorce. And romance? Forget about it. A survey from Consumer Intelligence found that only 15 percent of men don't do anything to celebrate Valentine's Day. They're also the ones who spend the most on flowers, candy, dinners out, and other ways to show their love.
When it comes to falling for someone, science shows that men have definite ways of picking a potential mate, use different senses, and use their brains to stay attracted to their SOs. Ever wondered what goes on in the mind of a guy in love? It's pretty fascinating stuff.