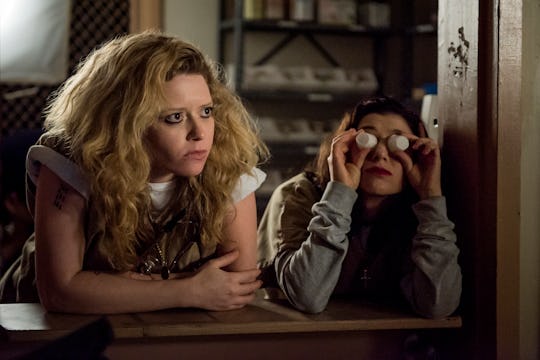 JoJo Whilden/Netflix
8 Shows Coming To Netflix in July That You Need To Start Watching
Of course, summer is about enjoying the great outdoors, playing in the pool, and spending lazy days at the park with your family and friends. But let's just be real here: it's also about cranking up the air conditioning, stockpiling snacks, and watching as much television as possible. Hey, you gotta do something while you wait for your sunburn to heal after the beach, right? Luckily, there are a lot of great new shows coming to Netflix in July, so you're going to have tons of good marathon-watching material.
If it feels like you can't keep up with all the content that Netflix keeps adding, you're not alone. The streaming service made it their mission to release at least 80 new, original movies and shows in 2018. Content officer Ted Sarandos told Variety, "They range anywhere from the million-dollar Sundance hit, all the way up to something on a much larger scale."
Along with original new shows and made for Netflix movies, the service has also scooped up a bunch of shows from all over the world, including scripted series, foreign house-hunting and travel shows, and so much more. In addition to all that, the Netflix originals that we've all come to adore just keep coming back for more seasons.
So, there's a lot more to expect for the rest of the year. In the meantime, here are a handful of must-watch shows coming to Netflix in July.
The Sinner (July 2)
Jessica Biel is the lead (and a producer) in this dramatic thriller about a young mother, Cora, who seems totally happy and content with her life.Until she has a seemingly random burst of rage and stabs a man to death on the beach, in front of everyone. The show flips between present time, where a detective is trying to find out her motive, and flashback's to Cora's past, with a ton of shocking twists and turns. It's totally addicting, and Season 2 is coming to USA August 1, so you can catch up now.
Anne With An E (July 6)
Netflix's original adaptation of Anne of Green Gables returns early in the month for a second season. According to Deadline, Season 2 "adds new characters and continues to explore themes of identity, prejudice, feminism, bullying, gender parity and empowerment."
Comedians In Cars Getting Coffee: Freshly Brewed (July 6)
Jerry Seinfeld's short but sweet series featuring, well, comedians getting coffee in fancy cars, returns with brand new episodes. Alec Baldwin, Kate McKinnon and Zach Galifianakis return for another go at it, with new guests such as Jerry Lewis, Ellen DeGeneres, Hasan Minhaj, Dana Carvey, Neil Brennan, Tracy Morgan, John Mulaney, and Dave Chappelle.
Sacred Games (July 6)
This new Netflix original looks so, so good. It's based on the bestselling novel of the same name by Vikram Chandra, and is about a "seasoned and cynical" police officer in Mumbai who gets an anonymous tip about how to catch a powerful crime overlord. Netflix writes that as he hunts him down, "it becomes clear that the game the two players thought they were engaged in is in fact part of a much larger scenario, one that expands beyond their city." Uh, sign us up.
The Fosters (July 6)
Season 5 of The Fosters hits Netflix early in the month. With only three more new episodes coming out on Freeform this summer, this is the last season for the the show.
Sugar Rush (July 13)
OK, if gritty crime series and thrillers about a mother murdering someone aren't up your alley, Netflix does have some lighter fare coming your way this summer. Sugar Rush is a baking competition show in which bakers have to create gorgeous sweets that look and taste good — in absurdly short time periods. The judges are Adriano Zumbo (from the Australian TV show Zumbo's Just Desserts) and Candace Nelson (the owner of LA-based cupcake chain Sprinkles).
Orange Is The New Black (July 27)
It's about time, right? The ladies of Litchfield are returning for Season 6, which means we'll finally get to see where all of our faves ended up after the riot of Season 5. What happened to the gang in the bunker? Will Flaca and Maritza find each other or did they get sent off to different prisons? We only have to wait till the end of the month to find out.
Shameless (July 28)
Thank goodness Netflix scooped this Showtime series about the most dysfunctional family on the planet. The Gallaghers are back for Season 8, which might be one of the most wild ones yet. Yea, really.
With all of these new and returning series to watch, you should be just fine TV-wise until Labor Day. Or at least August, when Netflix will release even more content for us binge.