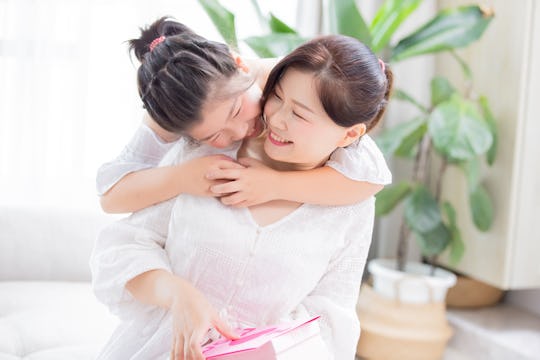 Shutterstock
8 Sweet Signs That Your Kid Is Beautifully & Securely Attached To You
When your child is small, they may spend the majority of their time wanting to be firmly planted in your arms or by your side. As they grow, the space between you may widen as they explore the world with more gusto than when they were very young, but if you and your kid have developed a strong bond, they will exhibit some or all of these sweet signs your kid is beautifully and securely attached.
While warm hugs and sloppy toddler kisses are some of the absolute best things in the world, watching your child exist in the world while knowing that they are secure enough in their attachment to know that they are loved and well cared for is equally as heartwarming.
Maureen Healy, author of The Emotionally Healthy Child and child development expert at Growinghappykids.com tells Romper why it's important for children to develop secure attachments. "Children need to form healthy relationships with their parents or caregivers. This helps them feel safe in the world and secure (emotionally) that they can move forward on their path of healthy development," Healy says. She also notes that these healthy attachments can happen with grandparents, teachers, or other important people in a child's life as well in order to facilitate healthy social, physical, mental, and emotional development.
If your kids is showing any of these sweet signs that that are beautifully and securely attached, you can rest assured knowing that you have a wonderful bond that won't be easily broken.