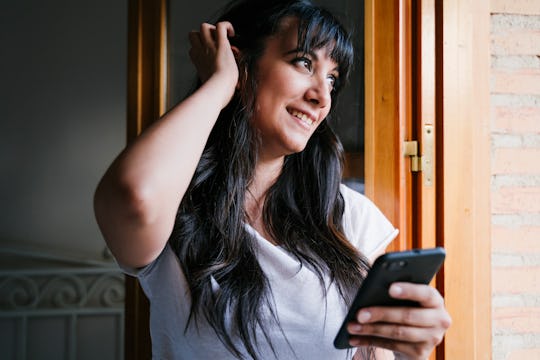 Eva Blanco / EyeEm/EyeEm/Getty Images
8 Texts Every Woman Sends Her Partner Before Sex
Sex and communication do (or should, in that perfect world we're constantly striving for) go hand-in-hand. In order to make sure both partners (or multiple partners, I mean after all, I don't know your life) are comfortable, keeping open lines of constant communication between consenting adults is vital. If you want your sex life to be happy, healthy and downright hot, you need to talk. That used to mean talking face-to-face, but thanks to the wonder that is technology, there are texts every woman sends her partner before sex, that ensure all consenting parties are going to have one hell of a time. Thank you, Steve Jobs.
Whether it's sexting to get you and your partner in the mood, or it's letting your partner know what you would like to do to them or have done to you, or it's simply touching base with your partner about safe sex practices, there are a few text messages every woman sends her partner before sex to get herself, and that special (or maybe not so special) person in the mood. Having the ability to talk candidly, honestly and passionately with your partner literally at your finger tips all hours of the day, can make the lamest board meeting seem exciting, the most mundane of schedules seems infatuating and the longest work day fly by. Again, thank you Steve Jobs.
So, with that in mind, here are eight text messages every woman sends her partner before getting it on. Maybe give these a try tonight? And yes, you're welcome.