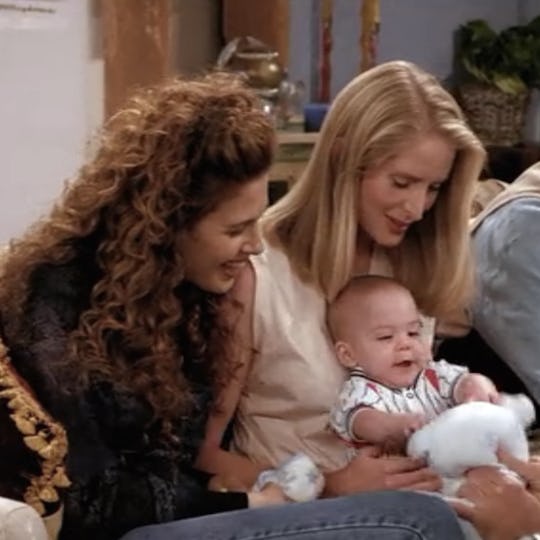 8 Things All Same-Sex Parents Have Heard And Would Love To Never Hear Again
It's 2015. DOMA is history, and the Supreme Court ruled in June that gay marriage is legal. We know that most Americans believe LGBT parents are just as good at raising kids as hetrosexual people, which is encouraging, since the hard data also says children of gay parents are at no disadvantage. We've come a long way. However, if you're an LGBT person with kids, you know that these hard facts in no way prevent members of your personal social circle, various professionals, and the public at large from making idiotic and occasionally hurtful statements to your face. 
Since I live in New York City, possibly the second most gay-friendly place on the planet after San Francisco, I didn't think this would be the case for me. This is the land of Stonewall. There's Park Slope, a neighborhood apparently inhabited entirely by lesbian moms. ("Because zoning," columnist and resident Sally Kohn once said.) Outwardly, it would seem that if any family should be insulated against the unwelcome commentary too often heaped upon same-sex parents, it would be mine, safely suspended in our progressive NYC bubble.
I am here to tell you that none of that makes a bit of difference. My wife's and my experience of fertility treatment, pregnancy, childbirth, and the joyful but also paperwork-filled 10 months of my daughter's life so far have proven that a) nowhere is safe from people's lack of filter, manners, or both, and b) just when you think no one can say anything more clueless or inappropriate to you about the fact that you're a gay person with kids, someone does.
When I asked other gay parents I know if this was simply a case of our bad luck in acquaintances, they confirmed that we actually are not alone, which made me feel better and worse at the same time. I don't mean to suggest that everyone in our lives is clueless — my very old-school, solo practice OB, for instance, showed incredible sensitivity and awareness through our whole pregnancy. And I'm sure, over time, straight people will learn what not to say to gay parents. Perhaps (over much more time) the idea that parenting units are not always made up of one man and one woman will become so pervasively internalized that we'll rarely find occasion to delineate between straight parents and gay parents. Still, to speed that along, here are eight things almost every gay parent has heard and never, ever wants to hear again: