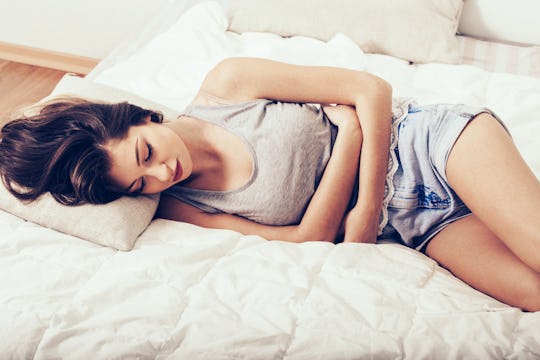 Irina Bg/Shutterstock
8 Things Every Grown-Ass Man Does For His Partner Suffering From PCOS
If you've never experienced Polycystic Ovarian Syndrome (PCOS), thank your lucky stars. I've been dealing with the painful, annoying, life-altering symptoms for many years. It's a complicated, often misunderstood disorder where menstrual cycles are irregular, too long, or nonexistent, and the ovaries collect fluid that presents as cysts. However isolating the disorder, though, there are some things every grown-ass man does for his partner with PCOS, simply because he cares. And if he doesn't, well, it's time for a very necessary conversation.
Women's Health reports that one in every 10 women of childbearing age are affected by PCOS. Honestly, I'm surprised the number isn't higher. When I received my diagnosis I'd already had my first cyst removal and a year's worth of agony, though I'd always had issues with cramping and discomfort. And still, despite the years of excruciating pain, I hadn't anticipated how long and daunting my journey towards reproductive health might be.
After I was diagnosed I endured another surgery to remove additional cysts and, eventually a surgery to remove my right ovary. The thing about PCOS is, though, it's indefinite and the symptoms are relentless. I'm convinced my issues with PCOS are what contributed to my two miscarriages, my ongoing troubles conceiving, and my random bouts of high blood pressure at every other doctor's appointment after I finally ended up pregnant.
When you're going through something like PCOS, it's important if not absolutely vital to have someone who consistently has your back. Otherwise, it's a lonely, painful, terrifying road. So with that in mind, here are the basics every grown-ass man does for his partner when PCOS is taking over.