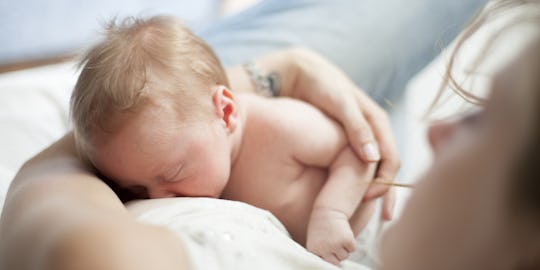 Fotolia
8 Things Everyone Thinks Happen The First Time You Breastfeed, That Don't
Despite reading countless books, taking breastfeeding classes (yes, plural), joining groups on social media, and having a ton of breastfeeding friends, I was not prepared to breastfeed. Nursing my baby for the first time was not easy or natural. There's definitely a learning curve, and let's just say things didn't go as I had planned. To make matters worse, I thought it was going to be so different. Turns out, however, that there are quite a few things everyone thinks will happen the first time you breastfeed, that don't. Because, like so many other parts of parenting, your expectations don't line up with reality.
The breastfeeding advocacy movement makes breastfeeding your baby sound like a magical, wonderful experience, full of snuggles and endorphins. While it can absolutely be all of those things, no one mentions the bleeding nipples, uterine contractions, difficulty latching, undersupply and/or oversupply, and feelings of dread. So, I went into that first feeding session thinking it would be the best thing ever. For me, though, breastfeeding was painful, and I didn't feel the rush of happy love hormones everyone promised me I would feel.
Breastfeeding my baby the first time also meant being topless in front of nurses and lactation consultants, piercing nipple pain, uterine contractions, and worrying that my baby was nursing too much and not sleeping enough. Fast forward through weeks of breast milk supply issues and postpartum depression, and I can safely say that breastfeeding my daughter was not a beautiful experience. Fortunately, I've had other babies and other breastfeeding experiences, so it definitely hasn't all been bad, either. I can tell you that it isn't terrible all of the time, but it also wasn't the magical experience I expected.