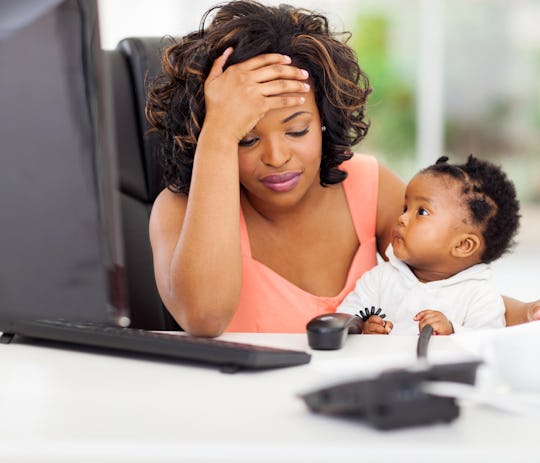 Fotolia
8 Things People Say To Moms About Their Careers That They Don't Say To Dads
Being a woman with a career can be challenging, any day of the week. Being a mother with a career can be really challenging, any day of the week. The demands of motherhood, coupled with the social expectation for mothers to drop everything and tend to their children, can make a working mom's life, well, um, let's just say difficult. That social expectation is (arguably) why people say things to moms about their careers, that they don't say to dads.
After having my first child (keep in mind that I'm Canadian, and we Canadian moms have it really good, what with a full year of government-sponsored maternity leave and all), I went back to my part-time retail job, eager to re-join the adult world. Sure, I loved my daughter, but when people would ask if I would rather be home with her I would look at them like they were crazy. The love I have for my kid doesn't stop me from also loving some adult interaction and brain stimulation, either.
Why does no one ever ask dads about missing their kids when they go to work?Why isn't a dad constantly asked if he's trying to, "have it all" when he returns to his career of choice? Because, in our society, dads are "supposed to" fill the role of "financial provider," while women are expected to provide in other areas. In our society, fathers are allowed to continue to be seen as complex human beings with multiple needs and numerous areas of interest, while mothers are dwindled down to "care giver," and that's it. Fathers aren't the center of endless social experiments in which children are studied by researchers to see if there are longterm benefits or drawbacks to dads working. Honestly, it's incredibly frustrating to have a mother's career choices questioned again and again and again.
It is, without question, a double standard in parenting rooted in gender inequality and blatant sexism. Times are a'changing though, (slowly, but surely) but that doesn't mean these eight things people say to moms about their careers that they don't usually say to dads, don't exist.