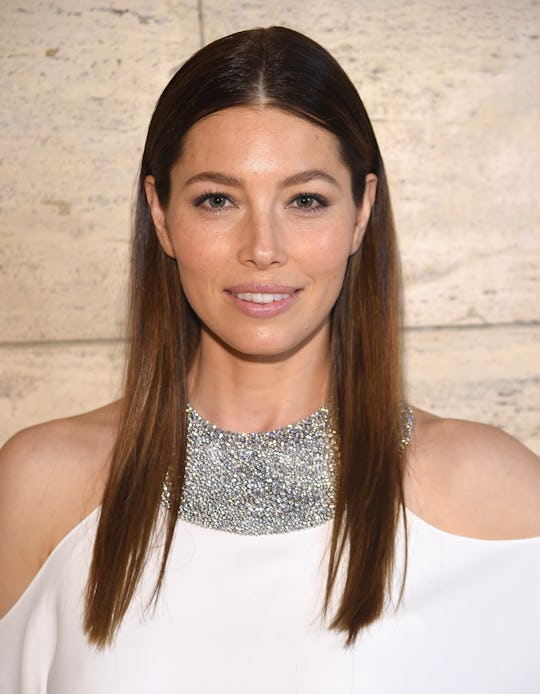 Jamie McCarthy/Getty Images Entertainment/Getty Images
Jessica Biel Was Asked About Mom Guilt, & It's A Double Standard We Need To Stop
Over the weekend Jessica Biel hit up a Tiffany & Co. Blue Book Gala in New York and was asked about whether she feels "mom guilt" when she's got to leave her 1-year-old, Silas, for work. Spoiler: she does. But while Jessica Biel gets asked about mom guilt can you imagine her husband and baby daddy Justin Timberlake ever being asked about "Dad Guilt?" Not likely. It's a stupid double standard that's got to go and does a disservice to working mothers everywhere.
When she was asked by Us Magazine whether she ever feels mommy guilt, Biel conjured the appropriate answer.
"Oh, you mean like a minute ago!? And about 10 seconds ago. And just now!" Biel said. "I feel it all the time. It's hard to find that balance, you know, between working and feeling like an independent person and like a woman again."
Somehow I find it hard to believe Timberlake struggles to find a balance and feel like an independent person. I find it harder still to believe Timberlake would ever be asked such a silly question. So why do we expect his wife to apologize for having a sweet gig?
And Biel certainly isn't alone. At the same event Reese Witherspoon was also asked about "mom guilt." She confessed she does feel like she's shirking her mommy duties when she's at work. But let's also remember, Witherspoon has a powerful and equally-career driven husband in Jim Toth. And I can't seem to find any comment anywhere about his being racked with dad guilt on the way to the office.
The question itself suggests working moms have something to feel guilty about. Both Biel and Witherspoon are successful, famous women with established Hollywood careers any other actor would give anything for. Are they really supposed to feel badly about not walking away from that to spend full time at home changing diapers? I thought we dispelled that old-school notion decades ago. Women who want to be mothers and go out and work too aren't doing something selfish or indulgent. So why are our most high-profile celebrity mothers being asked whether they feel like they're failing their children by putting on Tiffany jewels and going to a party? Ridiculous.
As a fan looking at impossibly beautiful images of actresses like Biel and Witherspoon, it might make me feel a little less crummy about my own life to think that they're constantly waging this internal battle between earning and raising babies. But I think it might be better for every mom to collectively call "BS" on mom guilt. As if the time mothers spend working is somehow stolen from the important work of heating up Spaghetti-Os. The truth is much kinder to women. The time they spend working to earn for the family and contribute to the workforce in general is important.
There's plenty of research that shows kids who have working moms are better off. So why can't we let up on their mothers?
Biel gives plenty of other disarmingly sweet tidbits about life at home for the Timberlake fam, like how she and Silas love to listen to Timberlake's music and that Silas is crawling around like a "maniac." And those details are humanizing and warm. There's no need for Biel to offer explanation for why her career matters, or how hard she finds it to juggle everything. Her fellow moms already know she's got nothing to apologize for or explain away.
Just keep up the good work, Jess. No guilt required.