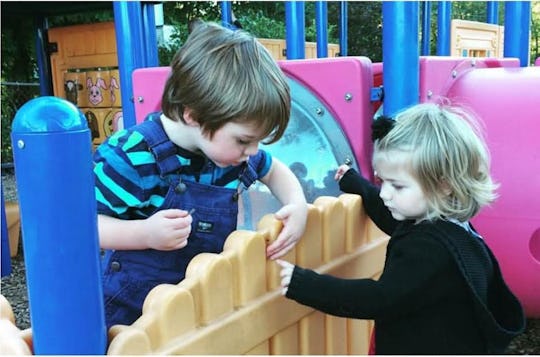 Courtesy of Jamie Kenney
8 Things People Say To Toddler Girls That They Don't Say To Toddler Boys
They say if you scratch the surface of a cynic, you will find a disappointed idealist: I can tell you from my own experience that this can absolutely be true. Despite my grumbly fist shaking and jaded, icy heart, I still believe that deep down people are good, or at the very least, not so bad. I believe that, given resources and opportunity, most people will at least try to leave the world better than they found it. And yet I also believe that people — all people — can be mind-bogglingly stupid and say correspondingly moronic things. People will disappoint you. Case and point: the garbage people say to and about my kids.
As soon as I had my son four and a half years ago, people began to say weird things. So when I became pregnant a second time, I figured I'd heard all there was to hear and that I'd be used to other people foisting their issues on the tiny proto-human that was my baby. Then I had a girl, and I learned there is an even lower ring of hell that I would get to experience as a parent.
A lot of the dumb things I'd heard after I had my son were repeated when I had a girl; the general stupid things people say to new parents, but there have been (and continue to be) things people say in regard to my toddler girl that my boy never heard...