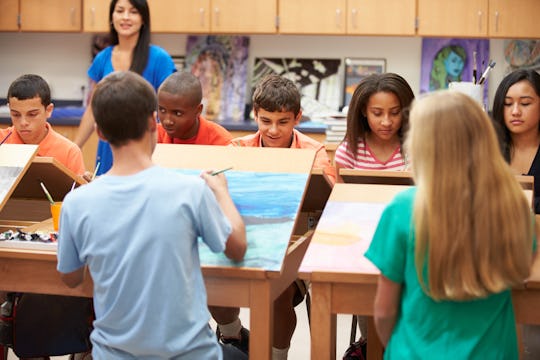 Monkey Business/Fotolia
8 Things That Happen In Kids' Brains When Arts Funding Gets Cut
In a culture obsessed with test scores, it's easy to lose sight of the fact that schools are educating human beings, not tiny robots, which is precisely why the arts are so important. But with so many budget cuts happening and kids losing out on theater, music, and visual arts, it's easy to wonder about the things that happen in kid's brains when arts funding gets cut. Maybe if people understood the repercussions, Trump and his Congress wouldn't consider programs like The National Endowment of the Arts so disposable.
Children's book author and professor Jewell Parker Rhodes knows firsthand how a lack of emphasis on creativity can stymie emotional expression and empathy. Rhodes, who has traveled around the world bolstering arts programs in schools for decades, tells Romper that though the United States has long been a leader in arts education, we're now seeing a sad decline. Meanwhile, other countries, particularly in Southeast Asia, are recognizing the importance of the arts to developing minds, and stepping up their game accordingly.
Rhodes explains that The Ministry of Education, Singapore invests heavily in arts and humanities education — even sponsoring a creative writing conference for middle and high school students. As a result, they've seen dividends in student confidence and academic performance across the board. In fact, Singapore's education system is one of the best in the world, according to the BBC. The United States, not so much.
Here's what Steve Jobs, the founder of Apple, had to say about the importance of arts education in a technical world:
"It is in Apple's DNA that technology alone is not enough — it's technology married with liberal arts, married with the humanities, that yields us the results that make our heart sing."
So what happens to children when arts funding gets cut? A lot.