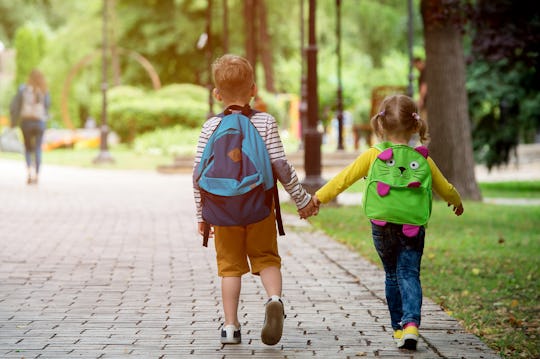 Shutterstock
8 Things Your Kid's 1st Day Of Preschool Will Cover, From Crying to Crayons
Back-to-school time is an important time for all children (and their secretly relieved moms), but it's a huge deal for kids going to school for the first time. For many 4-year-olds, preschool is their first experience in a classroom environment, and a parent's first experience leaving their child in someone else's hands for a large chunk of the day. Knowing what to expect on the first day of preschool can go a long way toward easing everyone's anxieties.
Although a preschool education is optional in the U.S., it can be an excellent option for parents who want to give their kids a leg up before kindergarten. As Parenting pointed out, quality preschools help build early literacy and math skills, increase a child's vocabulary, improve both gross and fine motor skills, teach independence, and promote socialization. Just as in elementary school, teachers assess children's progress and adapt their lessons to meet the class's specific needs. A teacher may also be able to detect issues such as speech delays or cognitive problems and refer parents to the resources they need to have their child professionally screened.
So what goes on at preschool once you and your child reach the brightly decorated classroom door? Speaking from my own experience as a preschool teacher, here are the eight key things you can expect your child to do on that big first day.