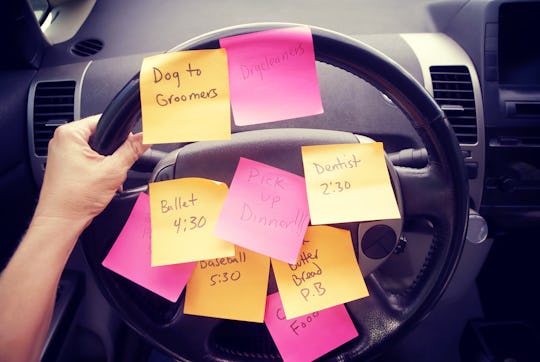 Suzanne Tucker/Shutterstock
8 Times Parenting Will Feel Way Too Overwhelming & Why It's Not Your Fault
Ever feel like you're not cut out to be a mom? I feel like that about once a month. If you're like me, and you have any form of anxiety, parenting will often feel way too overwhelming. There's so much pressure to be a good parent and a great mom, and so much internal competition and compensation for your own shortcomings. Obviously, parents want the best for their children. They want to give their children things they never had. They want to do things with their children that they were never able to do. They want their children to experience everything they never experienced. And because of this internal pressure and guilt and external judgement, parents sometimes feel like it's all just too much, all at once.
A few weeks ago, my daughter woke up sick in the middle of the night. She threw up numerous times, the first time all over her bed. As I was cleaning her up in the shower, my husband was stripping her sheets and throwing her bedding in the laundry. I washed her hair and got her dressed, then I bleached the entire bathroom (taking breaks every few minutes to run back to my daughter and hold her hair as she threw up over and over again). It took my husband and I over an hour to make sure everything was cleaned and in the laundry. As soon as we all settled down, my son woke up, started throwing up, and the cycle started once again. We all slept on the bathroom floor that night, the kids next to each other, and my husband and I at their feet with buckets in hand. That was a rough night, to say the least.
That night was one of so many when I felt like just throwing in the towel and calling it a day. I felt like I needed a week to recuperate, but of course, I didn't have a week. I didn't have even a day, because the next morning we all woke up and the kids were feeling better and they wanted to run around and have fun and I just wanted to disappear into the couch and go missing for just a few days.