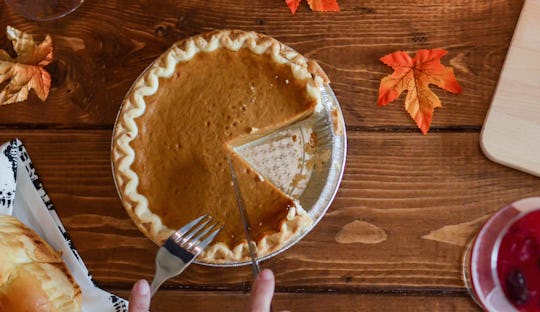 8 Vegan Desserts To Top Off Your Thanksgiving Feast, Because Everyone Deserves Pumpkin Pie
One of the very best parts about Thanksgiving, besides you know, the gratitude and family bonding, is the food. Vegans know full well that their options aren't limited merely by the fact that they choose to eat a specific way. Instead, the diet opens up a wide array of recipes that are arguably even more delicious than their non-vegan counterparts — at least that's what they and that's all that really matters. This Thanksgiving, you may find yourself with more than one vegan at your table (perhaps including yourself), so make sure your dinner spread includes a few vegan Thanksgiving desserts to top off your mouthwatering meal.
The beautiful thing about these vegan dessert recipes is that they're twists on the traditional all-American Thanksgiving favorites everyone knows and loves, just without the dairy. Pumpkin pie? Of course. Apple crisp? Always. These classic recipes will appeal to anyone at your table proving that being vegan doesn't mean you have to sacrifice taste, tradition, or your childhood favorites. Instead, it means adapting and updating these comfort foods until you're left with the perfect vegan recipe that rivals the real deal. Even your great aunt will approve.
These seven vegan desserts are handpicked with Thanksgiving in mind. They are surprisingly (or maybe not so surprisingly, if you're a veteran vegan chef) simple to make and are sure to wow your Thanksgiving crew. No matter who is around your table this year, be it a few close friends or a slough of your relatives, these desserts are certainly one thing to be thankful for.