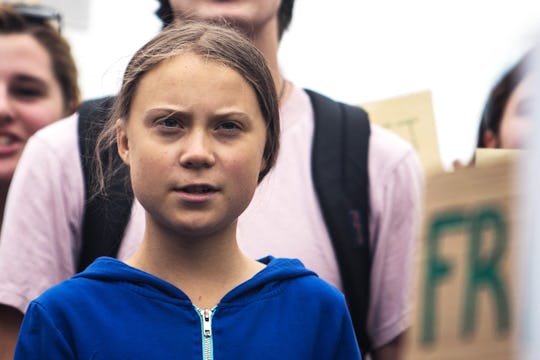 The Asahi Shimbun/The Asahi Shimbun/Getty Images
In Honor Of Greta Thunberg's Birthday, Here Are All The Ways She's Such A Capricorn
Greta Thunberg is a Capricorn. If you aren't into horoscopes, this will probably mean nothing to you. But if you've done even the lightest amount of research into the meaning of the signs, you are likely now nodding along sagely and saying, of course she's a Capricorn. In fact, there are at least eight ways that Greta Thunberg is such a Capricorn, and the world should be grateful because this makes her an ideal person to save the planet, as she's already set out to do.
The young climate change activist turned 17 years old on Friday, Jan. 3, and I would like you to go ahead and guess how she spent her birthday. That's right, she spent her 17th birthday doing the same thing she has done for the past 72 Fridays — going on strike in an effort to force world leaders to finally do something about the climate crisis. Fortunately, according to the National Post, this time around Thunberg was not alone as she went on strike outside the Swedish parliament building in Riksdagen, she was joined by plenty other activists.
Thunberg has been nothing if not consistent in her climate change activism; she has been so effective with her school strikes every Friday that she was named TIME magazine's person of the year in 2019. If you think this young woman is planning to pause and enjoy all of the kudos and praise heaped upon her, you don't get her at all. She is peak Capricorn and as such will keep driving forward to achieve her goals.