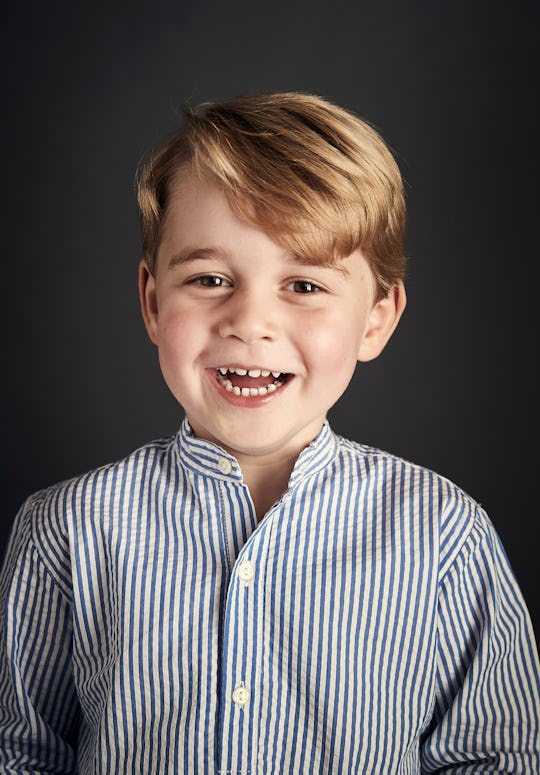 Handout/Getty Images Entertainment/Getty Images
8 Adorable Ways Prince George Is Every 5-Year-Old
There are plenty of ways that Prince George, the oldest son of the Duke and Duchess of Cambridge, is anything but a typical 5-year-old. He is the heir to the British throne after his father Prince William and grandfather Prince Charles, which isn't exactly like your typical kindergartner. He also had a special coin made in his honor when he turned 5 this past July. Again, not all that typical. But despite the fact that he's a royal, there are plenty of ways Prince George is really such a 5-year-old that other parents will totally recognize. And let's face it; it's all down to his parents making great strides to give him as normal a life as possible.
Ever since his birth on July 21, 2013 in London, the world has been falling deeper and deeper in love with him. First of all, there are his outfit choices; think Paddington Bear, Christopher Robin, and every little boy from every dreamy storybook ever and you will get a pretty good idea of what Prince George wears on a daily basis. Lots of shorts and button-down shirts and sweaters. He's such a snappy dresser that he recently made it onto Tatler's Best-Dressed in Great Britain list. Not that he would probably care, of course. Because he is a 5-year-old boy, and probably cares more about 5-year-old people things.
1. He's All About The Wheels
In 2016 Prince William told Sophie Trudeau, wife of Canadian Prime Minister Justin Trudeau, that his son is "obsessed" with anything on wheels, according to Hello! Magazine. Since then, Prince George's obsession with anything on wheels, including helicopters, has become evident to the public. Like when he was allowed to tour a helicopter during a family visit to Germany. Look at that face... it's the face of a kid in rapture.
2. He Laughs At All Things Naughty
It's hard to resist the pull of hanging out with a rule-breaker at any stage in life, but perhaps most especially when you're 5. And Prince George is clearly no different. When his cousin Savannah Phillips got up to some mischief during the 2018 Trooping The Colour on the balcony at Buckingham Palace, she had a giggly audience in Prince George. Especially when she covered his mouth as he tried to sing, according to Harper's Bazaar.
3. The Palette Of A Child
As a royal prince, I'm sure Prince George has any number of elegant dining selections. His preferred choice, according to his mom? Making pizza. During a public outing in March, the Duchess of Cambridge told guests at the Commonwealth Big Lunch that Prince George and his 3-year-old sister Princess Charlotte "love to get messy" and make their own pizza dough, according to HuffPost. Presumably they also love eating pizza, because it's awesome.
4. Shy Around Strangers
Princess Charlotte is rather notoriously gregarious when it comes to dealing with her throngs of admirers, but Prince George always seems shy. Even at the royal wedding he appeared to hide behind his waving sister and participate only with coaxing, according to The Sun. Why? Because at 5 years old, he's been dealing with strangers for longer than she has and he knows they aren't always the best. I noticed this in my own regular kids... by the time they turn 5, they really don't want to be bothered with people. And so it seems with Prince George.
5. Protective Of His Sister
That being said, he is also protective of his little sister, I think. When the two went to visit their mom and new baby brother, little Prince Louis, at the hospital just after he was born in April, Prince George could be seen putting his arm around his sister in a protective way, according to Metro. It's clear that he wants to be the Big Kid.
6. Looks Up To His Dad
Prince William is an exceptionally hands-on dad, even going so far as to crouch in front of his kids to speak to them on their level most of the time. Which could be why Prince George always seems to be hovering close to his dad during public outings; looking at their body language, Prince George seems to trust that his dad will protect him. And Prince William obviously truly loves his son, according to Good Housekeeping. When a boy is 5, I think it's pretty great if they have a strong male figure to look up to.
7. Horsing Around
During a recent polo match of his father's, Prince George couldn't get enough of just goofing off. Running all over the place, climbing... you know, just being 5. His mom also let him play with a toy gun at the match, which had plenty of people up in arms, according to HuffPost. And far be it for me to insinuate 5-year-old boys sometimes like toy guns. But... yeah.
8. He Likes To Play Store
Rebecca English, who is the royal correspondent for the Daily Mail, reported recently that both Prince George and his sister Princess Charlotte love to hang out with their grandma and take part in the family business. No, I'm not talking about learning the Queen wave, their grandma Carole Middleton runs a party supply company, and English reported that the two kids sometimes like to play shopkeeper in the store. Maybe because Middleton gives them candy when they do a good job.
If that doesn't sound like every 5-year-old, I don't know what does.