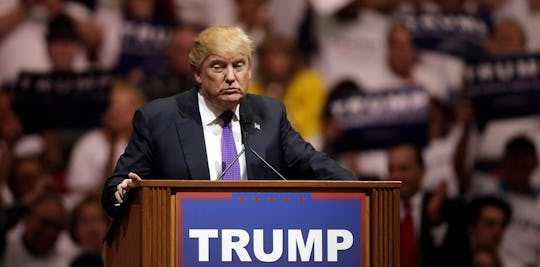 JOHN GURZINSKI/AFP/Getty Images
8 Ways Trump Is Basically A Giant Toddler, According To His Staff
If acting fussy, destructive, and always hungry for an extra scoop of ice cream sounds all too familiar, you've either raised a toddler or read the series of tweets explaining all the ways Trump behaves like a toddler, according to those who work with him. Curated by Tufts University international politics professor Daniel Drezner, the selection of quotes from various, unnamed politicians and White House aides has been forever preserved in a lengthy Twitter thread on his account.
Romper has reached out to the Trump administration for comment on the quoted statements, but has not heard back at this time.
Drezner's collected so many gems since April of this year, and given the nature of Trump's solar eclipse behavior (he stared right at it without protective glasses despite all the warnings, if you didn't know), there's no indication that any of these childlike tendencies will stop anytime soon.
Seventy one tweets later, Drezner's sourced reporting paints a hilarious picture of what it must be like to work with Trump. Concentration is apparently very hard to come by, moods flip at the drop of a hat, and pettiness reportedly reigns supreme in the White House.
Learning more about how the president operates might make you more sympathetic to the people tasked with handling him. Key word: might. But, at the very least, you'll have a good laugh.