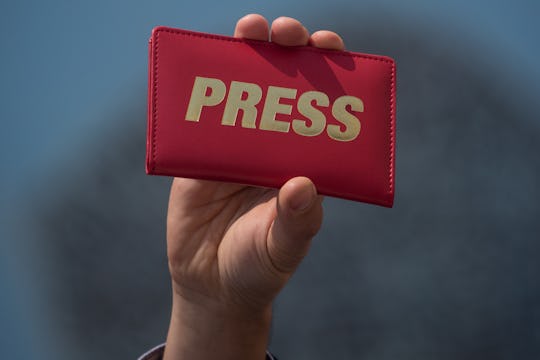 Chris McGrath/Getty Images News/Getty Images
8th-Grader Eloquently Advocates For A Free Press
Wednesday is World Press Freedom Day. It was proclaimed by the UN General Assembly in December 1993, and since then, it's been celebrated worldwide on the same date each year. To mark the occasion this year, The Washington Post asked readers in fourth through eighth grade to share their thoughts on whether a guarantee of a free press is still important, as part of a contest. They picked one winner for her outstanding answer, and her name is Jahnavi Dave. That eighth-grader advocated for a free press in her response, and it's extremely astute.
Dave is an eighth-grader from Burke, Virginia, according to The Washington Post. She told the publication she has studied freedom of the press in her civics class at Lake Braddock Secondary School. She watches world news on TV and still reads the newspaper — not exactly a popular past time for most 14-year-olds.
Dave wants to be an aerospace engineer when she grows up, so, in her essay, she tied her interest in science and technology to the freedom of the press.
Dave received four tickets to the Newseum in Washington, D.C., for her winning piece in the KidsPost contest, along with some other prizes — and of course, the bragging rights that come with winning a contest run by one of the biggest newspapers in the world. That's kind of a big deal for anyone, but especially for an ambitious eighth-grade student.
Her essay for The Washington Post began:
We may not know it, but history is being made right now, in this moment ... As citizens and residents of the United States of America, it is important to be informed about everything going on around us ... Now more than ever, it is important for the free press to portray the world without any filters.
She noted the importance of a free press when it comes to politics, in particular, though she didn't name any particular politician, political party, or ideology in her mention of it.
Freedom of the Press, or free press, is a one of the five First Amendment freedoms ... Government is a big example of where free press is important, especially in the 21st century. Some politicians may take advantage of the public by not telling the whole truth. The free press holds government officials accountable to the public so that all information is known and proper decisions can be made.
Dave is correct in her claim that the free press holds government officials accountable — or at least, it's meant to. Freedom of the press protects journalists so they can report freely without fear of retribution by subjects — particularly powerful political figures.
As Margaret Huang, executive director of Amnesty International USA, stated, "Reporters play a critical role in holding governments accountable for human rights abuses. Whether they are working in Turkey, Egypt, Mexico, the United States or anywhere else in the world, the press must be able to do their job."
As that organization reminded readers on their website, reporters face possible arrest both in the United States and worldwide. We need people like Jahnavi Dave to advocate for a free press from a young age — and to continue to do so throughout their lives. Freedom of the press is supposed to be a guarantee now, but it will always need champions to protect it now and in the future.