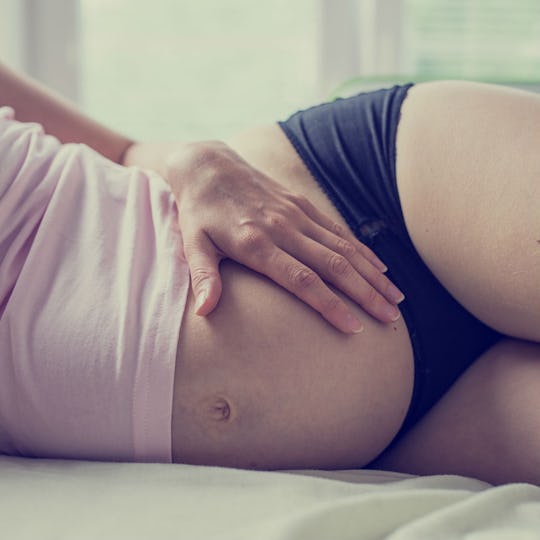 9 Awkward Things That Might Happen During Pregnancy Sex, But Shouldn't Ruin The Moment
Sex and pregnancy pretty much go hand-in-hand, right? You need sex to get pregnant, but pregnancy sex is not everyone's favorite thing. As if sex itself wasn't weird enough between the mashed up bodies, dirty talk, and unidentifiable fluids, there are a number of additional awkward things that might happen during pregnancy sex. You not only have a new, cumbersome shape, but hey, there's now another human in on the action. Except they're just hanging in your uterus while you get busy. And let me tell you, realizing that is just one of the awkward things about pregnancy sex.
Keep in mind, pregnancy sex is still totally worth it. Your orgasms may be mind-blowing thanks to the extra sensitivity down there, and you may feel an added intimacy. If you're feeling frisky and have the OK from your doctor, then there's no reason you can't get it on during pregnancy.  But be aware that the awkwardness of sex may hit an all time high once you have a womb mate. Instead of flipping into new positions on a whim and lasting for hours, you might have to prop yourself up with some pillows and have a quickie so you can get back to your much-needed sleep. To better prepare you for the perils of pregnancy sex, I rounded up nine awkward events that might happen to you during pregnancy sex. It won't make it less awkward, but it will help you prepare for the worst.