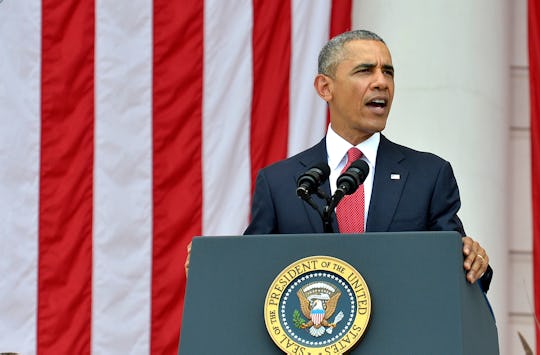 Pool/Getty Images News/Getty Images
These 9 Barack Obama Memorial Day Quotes Will Make You Cry
There's so much more to Memorial Day than a long weekend off work. The holiday honors the legions of military men and women who died in service to their country. It's so hard for most people to wrap their minds around what a sacrifice like that means, let alone put it into words. But there's one man who's always been up to that job. These President Obama Memorial Day quotes are an emotional reminder of why the day is so important.
Obama traditionally gave his annual Memorial Day address from Arlington National Cemetery, making his speeches all the more poignant. The cemetery is the final resting place for hundreds of thousands of late veterans, according to CNN. But as every American should know, veterans (especially those who gave their lives in the name of freedom) should be honored all year round. Whether he was speaking on Memorial Day, Veterans Day, or any other random day, the President had a unique way of capturing their glory, and our duty to keep their memories alive. And even though he's no longer in office, President Obama is still spreading that important message, as you'll see below.
These 9 emotional Obama quotes perfectly capture the essence of this somber holiday, and are so worth sharing.