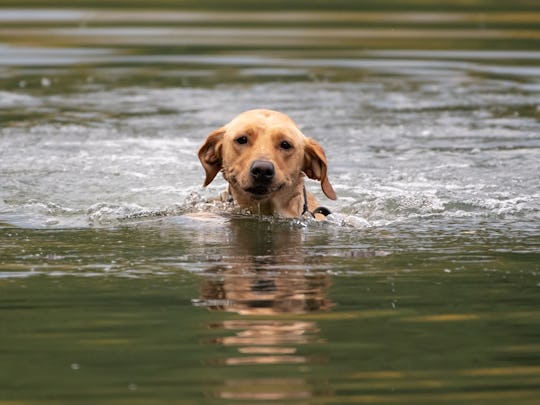 Shutterstock
Looking For A Dog That Loves To Swim? These 9 Breeds Will Jump Right In
Some dogs love the water more than just about anything. So if you want a canine companion for boating, kayaking, or other outdoor water activities, then consider one of the dog breeds that love swimming. These pups will happily jump into any pool, creek, lake, or puddle around.
To learn more about the dog breeds that like water, Romper spoke with Russell Hartstein, CDBC, CPDT-KA, the CEO of Fun Paw Care, a dog training and care organization. "It's a good bet that any water dog is going to have a good chance of liking the water," says Hartstein. This goes for breeds such as retrievers as well. However, not every dog from a particular breed is going to love water. "It is important to remember that dogs are individuals and that some breeds that are 'supposed' to love water are not interested or scared of it and others that are not supposed to be swimmers gravitate towards the water," says Hartstein. So although some breeds are known for their amazing swimming skills, there will be a few dogs in the group who dislike water.
Plus, even breeds that love swimming need some training around water, too. It's important to teach your dog how to swim in a safe way, as explained in Bustle. For instance, introducing your dog to the water slowly, and offering lots of praise for a job well done, are excellent ways to help your dog enjoy swimming.
Lastly, you don't have to get a dog from any specific breed in order to have a swimming buddy. "That being said, don't forget about mongrels! They love the water as much as any pure breed. It is all dog specific. Just as with people," says Hartstein. For the most part, though, dogs from these breeds tend to love swimming, according to Hartstein.