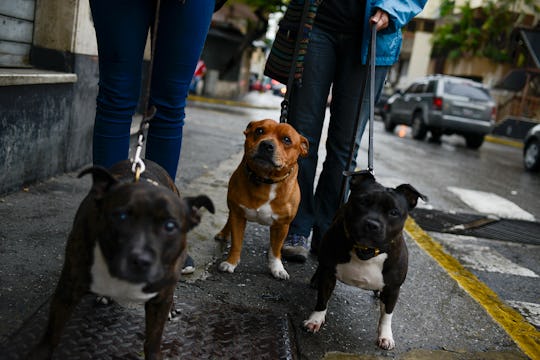 Matias Delacroix/Getty Images News/Getty Images
These Are The 10 Factors You Absolutely *Must* Consider Before Getting A Dog
As soon as you decide to get a dog, you start tallying up the things you need to make them feel at home. A fluffy bed, the best kibble you can find, and about a million chew toys make the list. But all the excitement can make people forget about some of the logistics of adding an animal to your life, and the lack of forethought can be detrimental to you and the pup. These are some of the factors you'll most likely forget when getting a dog.
No matter what kind of dog you add to your family, there will be a transition period as everyone adjusts to the demands of caring for another creature. Many parts of that transition will be fun — getting doggo kisses whenever you walk in the door, running with your new buddy, having a built-in blanket whenever you sit on the couch. But making sure you're home to feed, walk, and play with your pup pal as much as they need means you can't be as spontaneous, and your lifestyle will definitely change.
Plus, there are a myriad of other ways dogs change your life that you probably haven't considered, and it's important to think about how your routine and the pup's will match up to ensure the animal is getting the care they deserve. Read on for some of the most common things new dog owners forget to consider before bringing a pup into their lives.