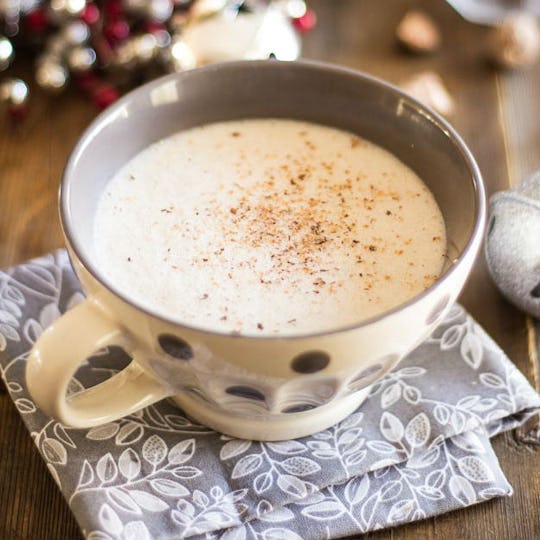 9 Easy Eggnog Recipes To Keep Your Holiday Spirits Bright (Including Some Vegan Options)
When I was a kid, eggnog sounded like this God-awful, thick, gloopy mixture that I imagined had the texture of mucus and tasted like egg yolks. Up to that point, my only frame of reference was Clark Griswold sipping it with Cousin Eddie in National Lampoon's Christmas Vacation, but I had also seen Gaston guzzle raw eggs in Beauty and the Beast, so I was fairly stumped at how grown-ups could sip it with glee. But now that I'm an adult (theoretically speaking) and understand the word 'booze' a little better, I'm all for some easy eggnog recipes to keep me warm this season.
I'm a big fan of seasonal things. Whether it's my latte or my beer, I like to keep drinks themed. Gingerbread ale? Yes please. Peppermint mocha latte? Yum. Eggnog? All December long, y'all. It is rich, creamy, and is basically dessert in a glass. I love that you can serve it alcohol-free for the littlest Griswolds in your family, or spike it when trying to deal with the stress of untangling the damn icicle lights in the freezing cold. Because you can't find it year-round, it's definitely one of those special treats and really brings on the Christmas feels. If you're like me, you're probably more apt to buy a carton in the store and doctor it up yourself, but these nine easy eggnog recipes also include some homemade versions for the Barefoot Contessas in the crowd. No matter how you make it, it's sure to help you sing "Jingle Bells" a little bit off-key and a whole lot louder. Cheers!