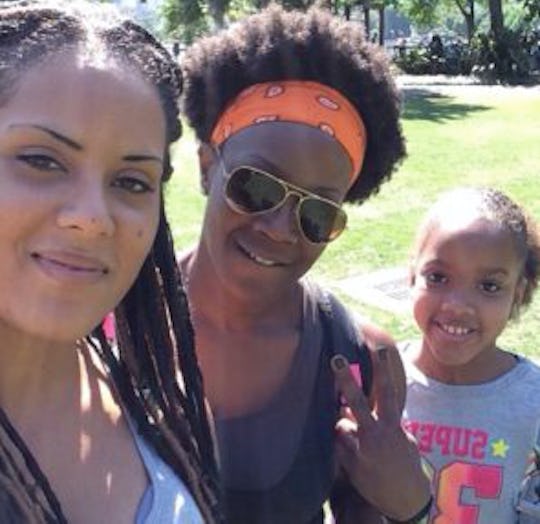 Courtesy of Nicole
9 Florida Moms On How They're Talking To Their Kids About The Pulse Nightclub Shooting
Early Sunday morning on June 12 at Pulse nightclub a real-life nightmare took place. The club was packed with young people enjoying themselves and dancing at the Orlando-area nightclub's Latin night when gunman Omar Mateen opened fire in the building shortly after 2 a.m. According to NBC News, police broke through the building after a three-hour siege and killed Mateen. Forty-nine innocent lives were lost and 53 more injured, making the Pulse mass shooting the deadliest in U.S. history.
The night club is just over two miles from my home in Orlando in a popular part of town. Some of my friends and fellow moms heard the commotion inside the club from their homes, and are deeply shaken up by it all. Though the attack wasn't something that immediately happened to us, it happened in our own backyard. My own sense of security has been rocked in the aftermath of the Pulse shooting. I find my heart racing when someone in the grocery store reaches into their pocket for their phone. When I realize they're reaching for a smartphone and not a bomb, I realize how uneasy I've become, how I've learned to assume the worst. I usually feel very safe and trusting in my community, but the horrible events that happened here in Orlando have left me feeling uneasy. And I know I'm not alone.
Though the shooting at Pulse nightclub was a terror attack carried out by an individual who targeted members of the LGBTQIA+ community, as a parent, I'm struggling to figure out how and when to to talk with my children about what happened at Pulse that tragic night. These aren't easy conversations to have. I, like so many other parents, want my children to feel secure. I want the world to be a positive place for them, but events like what happened at Pulse are a harsh reminder that the world isn't always positive. Although I want to be honest and open with my kids, I also want to protect them from pain. Right now, thousands of other parents all over the country and the world are figuring out how to have this same conversation.
We have a 10-year-old daughter. She was at a friend's house [on the night of the shooting]. She saw it on the news. She said she saw that and thought that's why she spent the night, that maybe we weren't ever coming to get her. We hang out at Pulse a lot and it was my birthday weekend. We just didn't go that night.
Romper spoke to nine local Florida parents about how they're talking to their children about the Pulse nightclub terror attack, and here's what they had to say:
Jennifer, 35
Jennifer has two sons, ages 4 and 3. They live in Orlando, Florida.
"We told our eldest there was a bad accident and that some people died. [We told them] the firefighters and police officers helped some hurt people go to the hospital, [and that] the roads were closed because they were still cleaning up the area of the accident and didn't want anyone to go there and get hurt. [We explained to them that] the flags [were] lowered because it's a way the USA shows that we care about the dead people and love them and are sad they died, [and that the] helicopters are helping the police too.
"I wanted to be as honest as possible, without saying there was a bad guy with a gun. These answers seemed to satisfy him at age 4."
Nicole, 31
Nicole and her partner have a daughter who is 10 years old. They live in Orlando, Florida.
"We have a 10-year-old daughter. She was at a friend's house [on the night of the shooting]. She saw it on the news. She said she saw that and thought that's why she spent the night, that maybe we weren't ever coming to get her. We hang out at Pulse a lot and it was my birthday weekend. We just didn't go that night. It was Latin night.
"It's pretty sad in our house. She said she had only one question and that I probably don't want to answer it. I told her I'd try. She said, 'Just WHY? Why would someone do something like that?' We don't experience much intolerance. We are so blessed and that is why this is extremely hurtful. Today she is OK. We went to the vigil. She cried and hugged us. We aren't fearful, but talked about how nowhere is entirely safe, and that we have to keep our eyes open. We took the opportunity to make a plan: what do we do if something happens and we aren't together? What if we don't have phones? What if we are together and just separated? These are the important things we need to talk about.
"She understands she has gay parents. She understands why it hurts, and it hurts her too. I love her for that."
Danielle, 37
Danielle has two sons, ages 5 and 8. They live in St. Augustine, Florida.
"I finally spoke with my kids. We pulled up to a church in Vík, Iceland [on a trip] and the flag was at half-mast. It was the perfect time to explain everything. I started with the significance of the lowered flag and that something really heartbreaking had happened in Orlando. The boys had earlier in the day noticed a photo in a coffee shop of two men kissing. They laughed and said, "Mom, look!" I simply explained that sometimes a man and a woman fall in love, sometimes two women fall in love, and sometimes two men fall in love. And all of that is OK.
"Referencing the picture from earlier in the day, I said, 'Remember that picture in the coffee shop? And you know how we like to go to restaurants? Well, some people like to go to bars and clubs to drink and dance. There are clubs all over that cater to [all kinds of people] — some are for country music, some are for house music, some are for comedy, some are for theater, some are for teenagers, some are for adults, and some are for men who love men and women who love women. The other night, a terrible person called a terrorist went into one of those clubs and started shooting a gun. He hurt and killed lots and lots of people. We don't know exactly why he did it yet — maybe he was scared, maybe he was full of hate. Sometimes religions or groups convince people to do awful things. Sometimes people are just crazy. What's important is that we don't live in fear, we don't let them win, we don't hate, and we keep spreading love. You guys have any questions?' They both said "nope" at the same time and haven't brought it up since."
Tamsin, mid-30s
Tamsin has two daughters, ages 5 and 1. They live in Orlando, Florida.
"Usually you hear shootings on the news and your heart [goes] out to the families, friends, and community. It's quite hard to wrap your mind around when it's in your own backyard. [You] never expect something this tragic to happen in your community. I have yet to explain to to my daughter. She's not aware of the situation. Part of me feels it's too much to expose her to and another part of me wants to make her aware. I do explain to her that there are people in this world who are filled with hate and anger and they will sometimes express their anger onto others."
Having these conversations is the hardest thing I've ever had to do.
Shellie, 42
Shellie has a son and three daughters, ages 14, 12, 12, and 2. They live in Orlando, Florida.
"I didn't let my kids watch the news until recently. I love smartphones because we can read what's going on without our kids seeing it. I feel like the kids need to experience that kind of pain in books before they see it in real life. Then this stuff happens and even if you don't let them see it at home, they are going to hear something when they are out with their friends. You have to tell them something because we all know it's better that they hear it from us.
"I didn't think this was as hard to talk about with my kids as Sandy Hook was. Even though this was very close to where we live, Sandy Hook was in a school and my kids were younger. I hated that I had to tell them about that one. How could they not live in fear after they heard THAT story? I know I did. How the heck do we explain something we ourselves don't understand? I tell my kids that people often make poor decisions because they have trouble thinking straight. Alcohol, drugs, or peer pressure may affect their thinking. They don't know what they're doing. We need to pray for them to get it together. We talk about religion, and that it should never teach hate, but some people actually think theirs does. We talked about how people have to make choices on how to interpret religious texts and who to listen to.
"I try not to cry while I'm talking to them but I know it's OK for them to see my pain. I just try to say over and over again that although we hear about evil actions and bad people, there are millions more good actions and kind people. We can't live in fear of the bad. We have to see the good. Then I go to my room and cry some more, because having these conversations is the hardest thing I've ever had to do."
We talked about how we can never judge an entire group of people based on their religion.
Kristin, 42
Kristin has one son who is 14. They live in Tampa, Florida.
"First and foremost, we always talk about acceptance. We talked about how this [story] is all over every possible form of social media and we need to get facts and not look at memes as a source of truth. I don't talk about guns or gun rights [with my son.] This is going to sound very watered down, but he has a 14-year-old brain and though he may understand overall concepts, he has a hard time separating emotion from action. We talk about how the shooter did a truly horrible thing, and impacted not only the families of the victims, but [also] the [people] who believe everything that comes out of the media.
"We talked about how we can never judge an entire group of people based on their religion. I don't know if you've seen the movie Two Weeks Notice, but there is a part where Sandra Bullock tells Hugh that he's the most selfish person on the planet. He responds, 'Don't be ridiculous. You couldn't possibly know everyone on the planet.' That's my go-to."
Jacqui, 32
Jacqui has two sons and a daughter, ages 7, 5, and 6 months. They live in Jacksonville, Florida.
"If the boys had been in school and heard other kids talking about it [then] I'm sure I would have addressed it with them. They really didn't pay attention to the news as I was watching it so I didn't talk to them about it. They have asked about other situations in the past, about shootings and September 11. I typically answer these questions the same way, whether I'm with my third grade students or my own children: I explain innocent Americans were attacked because of freedoms we believe in that other people don't value or respect. We've prayed for the people of Orlando, but my boys haven't asked too much about it."
Doreen
Doreen has three daughters, ages 26, 19, and 16. They live in Ft. Myers, Florida.
"My girls wanted to know how someone on a terror watch list was able to purchase guns. We had to talk a lot about gun laws and the rights of our citizens. We also talked a lot about being calm in emergency situations. They have to understand that if they find themselves in a situation like this, they have to stop and think in order to act in smart ways that could save them. My children accept the reality and aren't scared. As African Americans, they're also accustomed to intolerance. We talk in our home about living in a system of institutionalized racism. I tell them not to fight it. It is what it is. [Instead] I encourage them to be positive contributors to a system that makes them feel oppressed at times."
Gretchen, 36
Gretchen has two sons and a daughter, ages 9, 7, and 3 months. They live in Florida.
"I don't let them watch the news because there's so much negativity. I'm not ready to impose that on their innocence. The longer I can keep that fear away from them, I will."