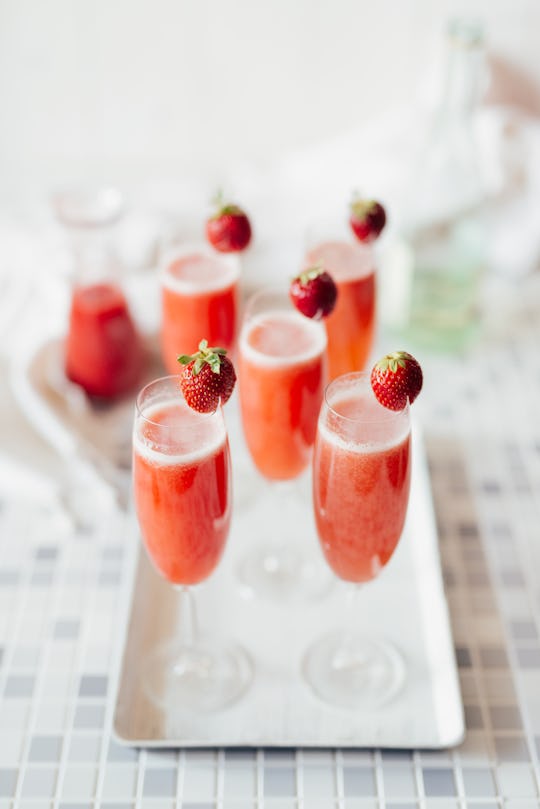 Pixel Stories/Stocksy
Pour These Cocktails On Galentine's Day & You'll Be 'Kickin' It Breakfast Style'
Ladies, I want to discuss something uber important: Galentine's Day. That's right, the day dedicated to honoring female friendship is almost upon us, and I personally plan on doing it in style. There are all kinds of ways you can celebrate the amazing women in your life this February 13: you could go out to dinner, bar hop, or have an epic slumber party (shout to your partners for taking the kids for a night). Whichever option you choose, you're going to need drinks to get the party going, so here are some Galentine's Day cocktail recipes to help you out.
The ultimate girl's night (inspired by the classic Parks & Recreation "holiday," of course) can't be half-assed in any department, and that includes the beverages you provide for your lovely ladies. Listen, your friends aren't just anyone. They're the people you text at least three times a day for advice on everything from what sweater to buy to how to get your toddler to eat; they're the ones you trust to watch your kiddos when you go out of town for the first time since they were born; they're the ones who can make you laugh no matter what. Bottom line, they're your people, and that means they deserve a cocktail that's as fantastic as they are.
So read on for nine drinks that are almost on your besties' level of awesome (reaching it would be impossible), and start channeling Leslie Knope to make sure you're giving your girls everything they deserve.