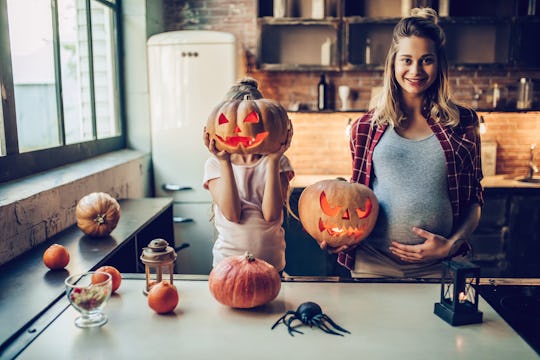 Vasyl/Fotolia
9 Last-Minute Halloween Costumes For Pregnant Women (Because You're Already Growing A Human)
You've always loved dressing up for Halloween, but this year, you're expecting, and afraid that your baby bump might seriously limit your options for costumes. But you couldn't be more wrong. If you're usually trying to find creative ways to camouflage your belly, Halloween is the perfect time to throw that all out of the window. This time of year, you can make sure your bump is front and center and helps to make your costume special. If you're looking for a low maintenance costume that can accommodate you and your growing belly this Halloween, you need to check out these last-minute costumes for pregnant women.
As you move into the homestretch of your pregnancy, you've more than likely had your belly compared to a beach ball, a bun in the oven, or a pea in the pod. So why not find inspiration in some of these silly pregnancy metaphors to help you plan your Halloween costume this year?
I know, you're probably way too busy picking out nursery colors and assembling baby furniture to be concerned with planning your Halloween costume. Fortunately, you can put together many of the ideas on this list with little more than your favorite maternity t-shirt (and maybe a glue gun). And the little distraction might be a nice way to take your mind off of any of the annoying pregnancy pains you may be experiencing.
You may be short on time and energy right now, but you can still put together an awesome Halloween costume built for two.